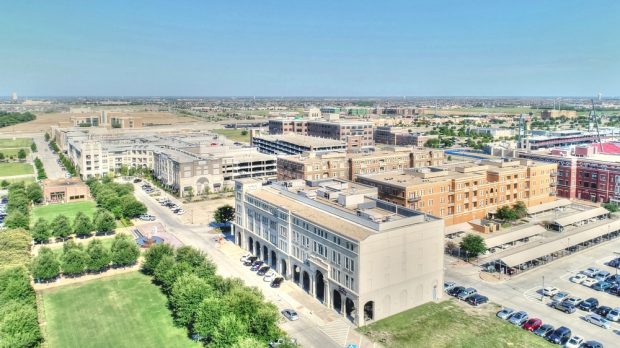 PenFed Credit Union is continuing to expand in Texas not only with new branches, but also with back office operations that it expects will add more than 500 jobs.
On Friday, PenFed of Tysons, Va. ($24.5 billion in assets, 1.7 million members) announced its expansion into the Dallas area with its purchase of a site in Frisco—about 30 miles north of downtown Dallas—for its new mortgage servicing center.
The Dallas operation will add about 30 jobs, and follows plans announced in March to add more than 500 back office jobs in San Antonio as it moves an operation 300 miles south from Plano, Texas, and a near doubling of its branch footprint in the state last year.
"PenFed is proud to make Frisco home to our new mortgage servicing center, create new jobs and expand into a city with skilled financial professionals and a large military population," PenFed President/CEO James Schenck said. "We look forward to growing PenFed's business throughout Texas for years to come."
PenFed has leased office space in two Plano buildings for the last several years and purchased the 50,000-square-foot Frisco site with 9,500 square feet of office space, allowing for a permanent location.
The PenFed mortgage servicing team will move to the new Frisco building, while the PenFed mortgage operations team will relocate to the recently purchased San Antonio Regional Financial Service Center. PenFed is providing all relocating employees with relocation compensation and time-off to complete the move.
"PenFed's expansion in the Dallas region allows us to best support our members," said Winston Wilkinson, EVP and president of mortgage banking. "A mortgage is a long-term relationship, and at PenFed we are committed to servicing all of our loans and providing our members with the best experience."
PenFed recently opened its San Antonio Regional Financial Service Center, which it expects to create new jobs in research, mortgage and loan operations, financial service center operations, collections, information technology and human resources.
PenFed is buying 28 acres at the San Antonio site. One portion of the plans contains a two-story, 146,000-square-foot office building with parking for 950 vehicles. Another portion has room for an additional 100,000-140,000 square feet of office space.
Rocky Mitchell, EVP of Global Fixed Assets, said San Antonio was chosen because it wanted to be in a "pro-business, military-friendly state." He also said last month that the city provides a "highly-skilled, diverse talent pool and world-class amenities to support PenFed's leading position as a destination employer."
PenFed SVP Dave Silvey will lead the San Antonio financial service center. Silvey currently leads the Eugene, Ore., financial service center and has been with PenFed for over 26 years serving in branch, research and online services and merger and acquisition roles.
PenFed ended 2018 with 10 of its 50 branches in Texas, up from six in the Lone Star State at the end of 2017, according to NCUA records.
PenFed expanded with five new branches near Fort Hood, about 70 miles north of Austin. Four new branches are in Bell County, stretching from Killeen just outside Ford Hood's gate to Temple, about 30 miles to the east. It also opened a branch in Copperas Cove, about 10 miles west of Fort Hood, and consolidated two branches in Corpus Christi.