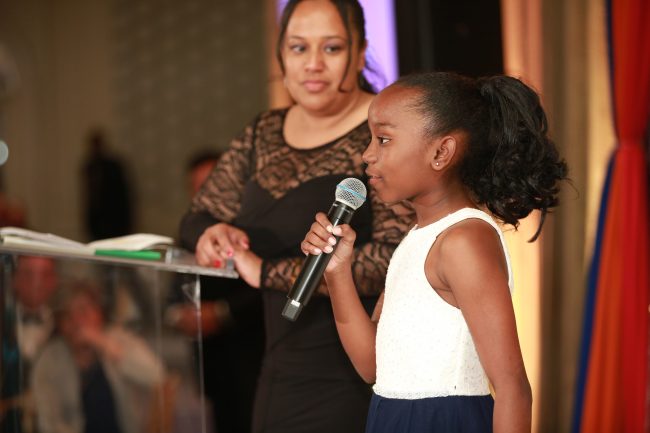 Eleven-year-old Jordin Jackson, Children's Miracle Network Hospital patient and special guest, addresses attendees during the 14th annual California and Nevada Credit Unions for Kids Wine Auction. 500 people attended the gala, and 67 credit unions, business partners and hospitals supported it. The event raised a record $1.4 million for the 11 Children's Miracle Network Hospitals in California and Nevada. This is the fifth consecutive year that the event has raised more than $1 million for these hospitals. The California and Nevada Credit Unions for Kids Wine Auction is the largest single fundraising event for Credit Unions for Kids, and has raised more than $8.5 million since 2006 for Children's Miracle Network Hospitals. CU Direct, the California and Nevada Credit Union Leagues, CO-OP Financial Services and CUNA Mutual Group were the event's corporate sponsors.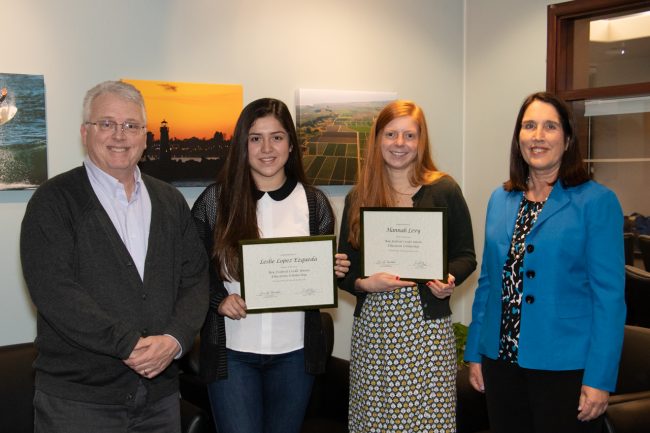 President/CEO Carrie Birkhofer (right) from the $996 million Bay Federal Credit Union in Capitola, Calif., and Chair of the Board of Directors Jim Phillips (left) stand with two of the three Education Scholarship recipients – Leslie Lopez Ezqueda (second from left) and Hannah Levy (second from right). Bay Federal honored the winners of its 2019 Education Scholarship and 2019 Mac McCormack Employee Scholarship at its annual meeting on March 26. Applicants were required to submit essays describing the most important financial issue facing their community, and applications were reviewed by a group of Bay Federal employees. Since 2008, Bay Federal has awarded 58 scholarships totaling $52,500 to students who are pursuing higher education goals. The Mac McCormac Employee Scholarship is named for the credit union's first employee.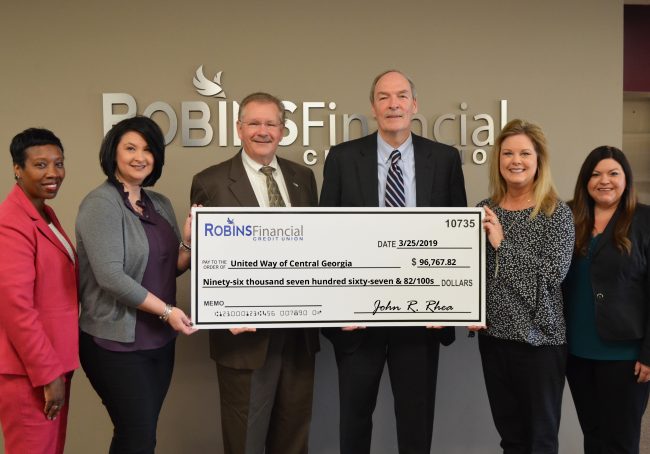 John Rhea (third from right), Christina O'Brien (second from left) and Dee Dee Côté (second from right) from the $2.5 billion Robins Financial Credit Union in Warner Robins, Ga., present a $96,762 check donation to United Way of Central Georgia. This contribution was a combination of Robins Financial's annual employee campaign along with sponsorships. A total of 82% of the employees donated to the fund, totaling more than $57,000.
Employees from the $1.3 billion Black Hills Federal Credit Union in Rapid City, S.D., and the $87 million Northern Hills Federal Credit Union in Sturgis, S.D., load a van with bottled water. On March 28, the two credit unions delivered more than 3,000 bottles of water to the $4.8 million Lakota Federal Credit Union in Kyle, S.D., because the local community is flooded and many have been without drinking water. Additionally, on March 29, the $106 million Sentinel Federal Credit Union in Ellsworth Air Force Base, S.D., the $76 million Med5 Federal Credit Union in Rapid City, S.D., and the $139 million Highmark Federal Credit Union in Rapid City, formed a caravan of vehicles carrying more water and delivered an additional 4,800 bottles.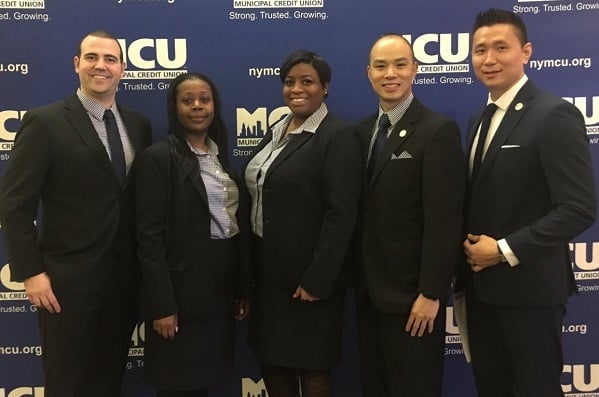 From left to right are mortgage loan originators Daniel Khayutosky, Kishla Reed, Atiya Ingram-Sanchez, Xiang He-Lin and Gordon Chan from the $2.9 billion New York, N.Y.-based Municipal Credit Union, leaders of the first MCU First-Time Homebuyers Seminar of the year on March 30. The team educated members and 500 event attendees on important home-buying topics including income qualifications, mortgage escrow, FHA loans, private mortgage insurance, credit scores and potential home-buying grants. For more than 15 years, the MCU First-Time Homebuyers Seminar series has helped thousands of New Yorkers prepare for the complex financial nuances of homeownership. The series, which is hosted both throughout the five boroughs and through interactive webinars, is part of MCU's ongoing corporate commitment to empower members though education.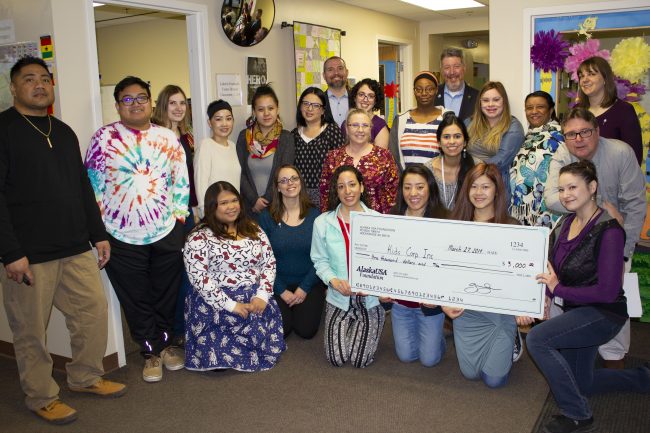 Employees from the Alaska USA Foundation, the charitable arm of the $7.6 billion Alaska USA Federal Credit Union in Anchorage, Alaska, present a $3,000 check donation to Kids' Corps, Inc., an organization providing vital, high-quality child development services that give children from at-risk backgrounds the skills they need to be successful in school and life. Alaska USA Foundation also contributed to two other nonprofits, totaling $13,000 in donations. The donations support a variety of nonprofits that provide vital services to Alaska's youth and people with intellectual disabilities. This round of donations marks an important milestone in the Alaska USA Foundation's mission, topping $2 million in donations since its inception in 2003.
Please send your Community news items to Tahira Hayes at thayes@cutimes.com.