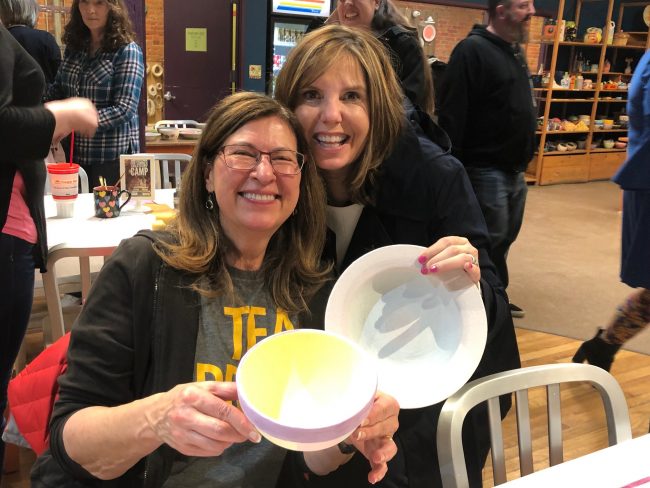 Employees from the $2 billion Elevations Credit Union in Boulder, Colo., paint bowls for the Colorado non-profit OUR Center. OUR Center's mission is to stop hunger in the local community and help families become self-sufficient. OUR Center's annual Empty Bowls event raises money to help the organization feed more than 16,000 households every year. Elevations employees joined others in the community to hand-paint bowls. These bowls are filled with soup at the event and attendees can take their bowl home after the meal.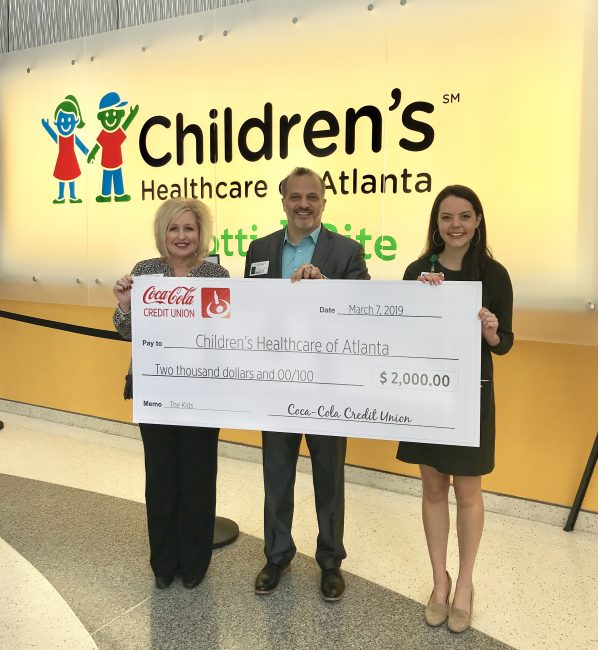 From left to right, Vikki Sifuentes, EVP at the $199 million Coca-Cola Credit Union in Atlanta, Ga., and Rob Hatefi, president/CEO at Coca-Cola CU, present a $2,000 check donation to Nancy Koenig, program coordinator at CMN Hospitals, Children's Healthcare of Atlanta. By selling old computer monitors and keyboards, credit union staff members were able to raise $2,000 in support of the non-profit. Several Coca-Cola CU employees also donated their time to Children's Healthcare of Atlanta, where they served breakfast and a wide variety of Coca-Cola beverages to deserving children, parents and hospital staff.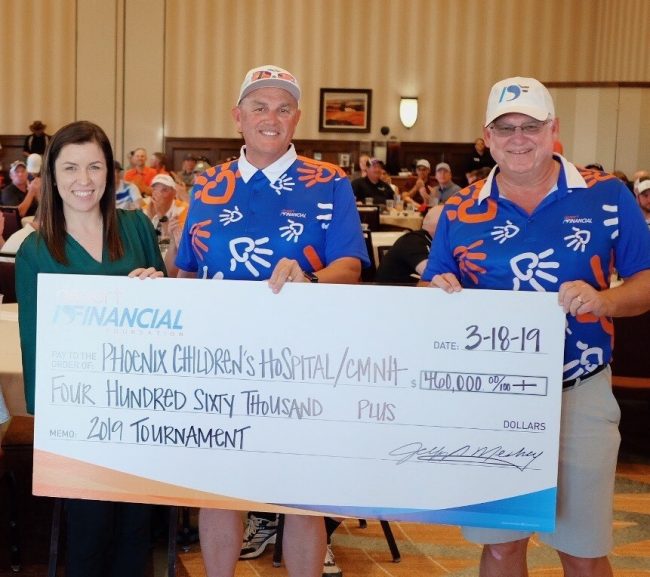 Jeff Meshey (middle) and Ron Amstutz (right) of the $4 billion Desert Financial Credit Union in Phoenix Ariz., present a $460,000 check donation to Georgia Smith (left) of the Phoenix Children's Hospital's "1 Darn Cool School" program. The gift was made possible by the Desert Financial Foundation Charity Golf Tournament, which benefits PCH through Children's Miracle Network Hospitals, an international non-profit organization operating for the sole purpose of providing funds for children's hospitals, medical research and fostering community awareness of children's health issues. The annual golf tournament originated in 1999, and in that time has raised more than $4.4 million for PCH through CMNH.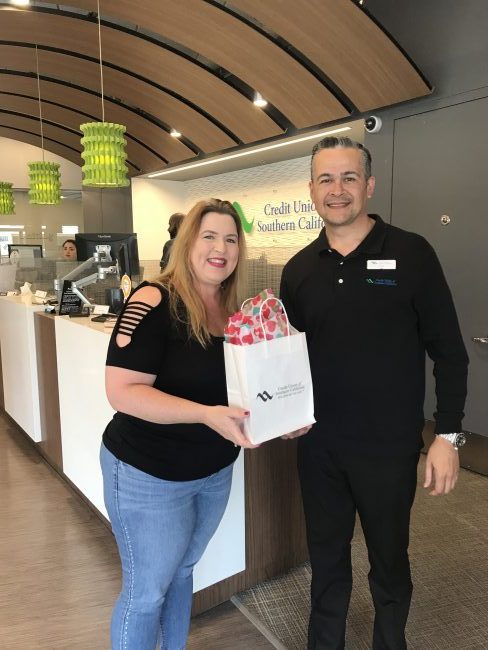 An employee from the $1.4 billion, Anaheim, Calif.-based Credit Union of Southern California presents a gift bag to a credit union member in honor of the credit union's new Whenever, However Appreciate Members, or WHAM, program. As part of the program, each of the credit union's 17 branches get a monthly sum of funds they can use however they want to show appreciation or "wow" members. The WHAM program included a member who was in a recovery center, and whose only way to communicate with his sons was via cell phone. When the credit union's Costa Mesa branch staff found out the family's cell phones would be turned off because they couldn't afford to catch up on the bills, the branch made the decision to WHAM the family by paying their bill. Another member, who had recently given birth to her first girl, received a gift for the new baby and for her two older boys. One long-term member who was in a car accident received a gift to lift her spirits during her recovery. In total, the credit union showed gratitude for its members by giving away $90,000 in gifts of appreciation in 2018.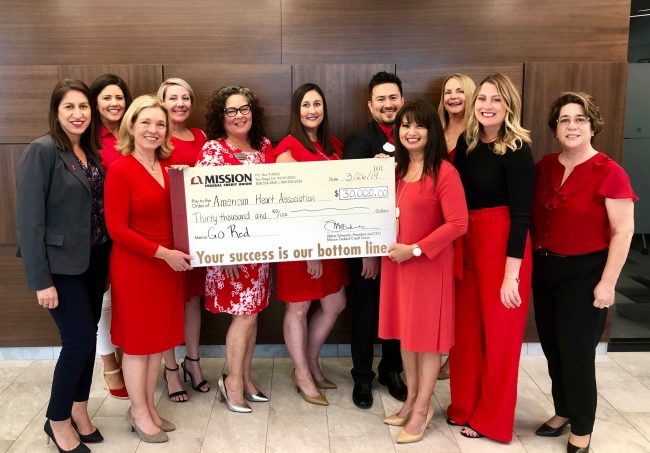 Employees from the $3.5 billion Mission Federal Credit Union in San Diego, Calif., present a $30,000 check donation to the American Heart Association, San Diego Division, under the Go Red for Women banner. The donation reflects a collaboration between the credit union's radio and television media partners and the support of the credit union's 31 branches, members and staff.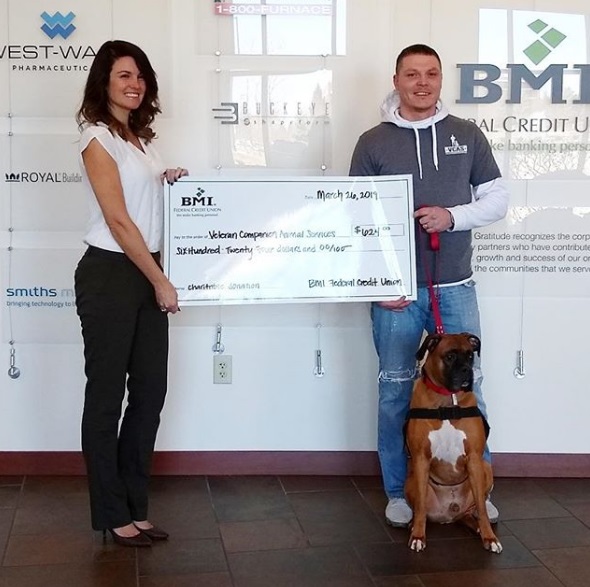 Sara Borland, director of business and community development for the $496 million BMI Federal Credit Union in Dublin, Ohio presents a check donation on behalf of EDGE, the BMI FCU staff charitable donation committee, to Veteran Companion Animal Services. Retired Army Staff Sergeant and five-tour combat veteran Jason Manley (right) accepted the donation on behalf of the VCAS vice president and committee chair. Accepting alongside him is Abe (short for Abraham Lincoln), his loyal and hard-working service companion. The organization works to pair service dogs with U.S. military veterans in need. This donation will contribute to frontline training classes and placement programs, along with needed supplies like water, bowls and treats.
Please send your Community news items to Tahira Hayes at thayes@cutimes.com.