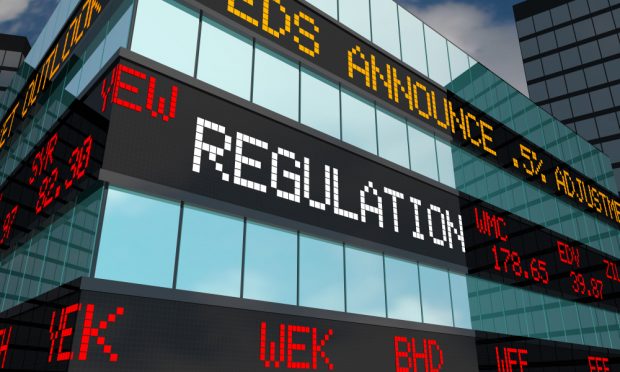 Americans support increased oversight of some of the nation's largest banks but say the regulation of smaller financial institutions is about right, according to a new poll.
Some 58% of registered voters either strongly support or somewhat support more government regulation and oversight of some large banks. By comparison, 20% said they either somewhat or strongly supported decreased scrutiny of some large banks.
The poll did not identify which of the largest financial institutions those polled believe deserve increased oversight.
The Morning Consult/Politico poll of 1,957 registered voters was conducted between Nov. 15 and Nov. 18 and had a margin of error of 2 percentage points.
Asked about regulation of large banks in general, 47% said the largest institutions need increased oversight, 25% said the regulation is about right and 10% said they should be less regulated.
But 43% of those polled said that regulation of regional and community banks is about right, while 24% said they deserve increased regulation and 11% said they are over-regulated.
The poll did not ask specific questions about credit unions.
Asked whether federal consumer protection has improved under President Trump, 32% said it has gotten worse, 23% said it has gotten better and 23% said it has remained about the same.
Asked whether enacting legislation to "reform" regulation of banks and financial services companies, 56% said it either was a top priority or an important priority, while 21% said it either is not an important priority or should not be done.
However, the poll did not define what "reform" meant, so it is unclear what type of changes those polled might favor.
And despite the high-pitched verbal battle between Trump and Rep. Maxine Waters (D-Calif.), the likely chair of the House Financial Services Committee, 44% said they either have no opinion of the outspoken Democrat or have never heard of her. By comparison, 32% gave her an unfavorable evaluation and 24% gave her a favorable one.
Asked about Trump, 50% gave him an unfavorable rating, 45% a favorable evaluation and 5% either had no opinion or had never heard of the president.