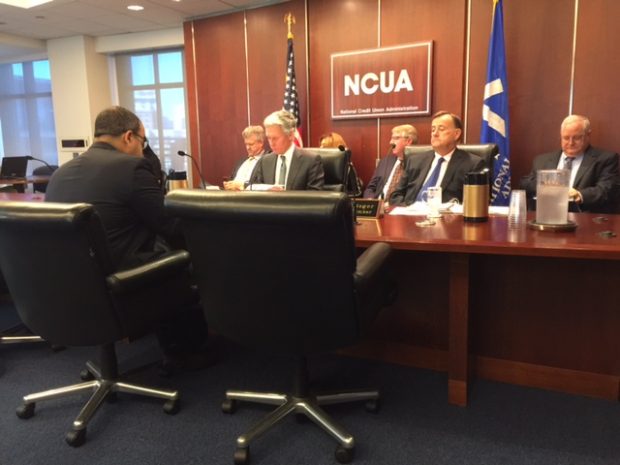 Rodney Hood's encore performance on the NCUA board would be a welcome development, sources in the credit union community said Monday.
President Trump on Monday nominated former board vice-chairman Hood to return to the panel. If confirmed by the Senate, Hood would take the seat currently occupied by Democrat Rick Metsger. Metsger's term expired in August, but he has continued to serve until a replacement is nominated.
Metsger said Monday that Hood's tenure on the board is encouraging.
"His experience is a big plus, having served on the board previously," Metsger said, in an interview.
Hood now serves as a corporate responsibility manager for JPMorgan Chase, where he manages national partnerships with groups that work on community development, civil rights and with the disabled community.
Former NCUA board Chairman Michael Fryzel said Trump is making an "excellent choice to strengthen the board and enable it to further review and reduce the regulatory burden credit unions face."
Fryzel and Hood were board members during the financial crisis.
"With his work and that of Gigi Hyland we were able to put in place the steps that not only enabled the credit union industry to survive but also to become the strong financial institutions they are today," Fryzel said.
John McKechnie, senior partner at Total Spectrum, also touted Hood's experience during the crisis.
"Remember, he was there during the corporate and mortgage market turmoil, and he helped shape the policies that got credit unions through the worst of it," McKechnie said. "Also, I think Mr. Hood's collaborative approach will serve credit unions well in his return; even though the times have changed, the need to be an active listener and maintain an open door hasn't."
Credit union trade groups also praised Hood's collaborative philosophy.
"Mr. Hood was approachable to stakeholders and demonstrated a thorough understanding of credit unions and the importance of commonsense regulation," said Ryan Donovan, CUNA's chief advocacy officer.
NAFCU President B. Dan Berger said he was pleased with Hood's previous efforts to help alleviate the regulatory burdens credit unions face.
"During his previous stint on the board, Hood did work to reduce credit unions' regulatory burden; we hope to see that continue," he said.
Only two members of the NCUA board may belong to the president's political party. Current Chairman J. Mark McWatters is a Republican, as is Hood.
If Hood is confirmed, it would leave a seat for someone who is not a member of Trump's political party. Presidents often pair nominees—a Republican with a Democrat—in an effort to ease the confirmation process.
However, in this case, Trump did not do so.
Unlike a nominee that would be new to the board, Hood's positions on some issues are clear.
As part of his previous work on the NCUA board, Hood:
Was an advocate of member business lending, saying that credit unions cannot let the rhetoric of banks opposed to it serve as a distraction.
Said he was in favor of a five-member board to be able to foster interaction among board members without violating federal open meetings requirements.
Pushed the credit union community to offer alternatives to loans made by payday lenders.
Was an outspoken opponent of adding credit unions to the Community Reinvestment Act.
Opposed adding credit union bylaws to the NCUA regulations.
Pushed programs that allowed more people to purchase their own homes.
Established an initiative called "Blueprint for 2020," an effort that joined credit union and university leaders to help develop future credit union leaders.
Pushed for Field of Membership rules that expanded the ability of credit unions to operate in underserved areas.