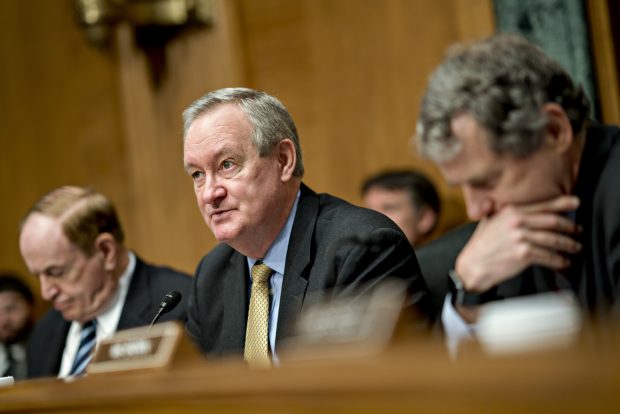 The Senate Wednesday passed a financial regulatory overhaul bill that is being hailed by credit union trade groups, but also faces an uncertain future in the House, which has passed a far more ambitious measure.
Voting 67-31, the Senate passed S. 2155, legislation that was crafted by Senate Banking Chairman Mike Crapo (R-Id.) and other Republicans, as well as some moderate Democrats.
The legislation contains a credit union-specific provision that provides that a one-to-four family dwelling that is not the primary residence of a member will not be considered a business loan under the Credit Union Act.
"The majority of us in this body recognize that our community financial institutions have been struggling to keep up with the regulatory demands coming out of Washington, and that it was time to revisit current law and make changes where necessary," Crapo said, shortly before the vote.
However, Banking ranking Democrat Sherrod Brown of Ohio opposed the measure.
"This body once again sided with special interests and Wall Street instead of homeowners, students and working families," Brown said shortly before final passage. "We missed an opportunity to pass meaningful bipartisan legislation that would help community banks and provide real protections for consumers.
Credit union trade groups said they were pleased with the Senate action.
"The Senate's passage of this bill is a great first step, as one of the greatest challenges facing the credit union industry is unnecessary, burdensome regulation," said NAFCU CEO/President B. Dan Berger.
"We're grateful to see both sides come together to pass a meaningful piece of regulatory reform legislation, and CUNA will continue its strong engagement to momentum and see the bill move through the House," said CUNA President/CEO Jim Nussle.
Senate passage will allow the House and Senate committees to convene a conference committee to try to reconcile the House and Senate bills
That is likely to prove to be difficult. The House bill, crafted by House Financial Services Chairman Jeb Hensarling (R-Texas) and committee Republicans contains many provisions that the Senate is unlikely to accept.
For instance, the measure makes large changes to the CFPB's powers; the Senate bill does little to change the CFPB.
It remains to be seen if House conservatives are willing to accept a more modest version of a regulatory overhaul measure; their votes, combined with Democratic opposition could doom the measure.
On the other hand, the Senate is unlikely to accept a much more ambitious plan like the one passed by the House.
In an effort to deal with that possibility, Hensarling has been breaking many of the provisions in his bill into separate measures that might be acceptable to the Senate.
For instance, the House Wednesday passed H.R. 1116, legislation that would stiffen the requirement that financial regulators tailor their rules based on the business model and risk factors facing institution, including credit unions. The bill passed on a 247-169 vote.