Redstone Federal Credit Union gave $600,000 back to members in monthly drawings during 2016 as part of its 65th anniversary celebration. Members earned entries every time they used a Redstone product or service.
But when Fred Trusty, Redstone's EVP and chief marketing officer, approached the senior executive staff in late 2016 about a 2017 give-back initiative that was even more aggressive and impactful – but had no tangible return on investment – skepticism was high.
"Last year we did this for our members. What can we do for the entire community that will bring a smile to their faces? What can we do to brighten lives and ask for nothing in return?" Trusty said his marketing team members asked themselves.
On Feb. 17, 2017 – National Random Acts of Kindness Day – Redstone sent teams out in florescent yellow shirts to buy gas for random residents. The acts were met with equal parts disbelief and gratitude.
Redstone Acts of Brightness was born that day. That single initiative has connected with the community in such an emotional and visceral way that its impact has been felt beyond the action and hit at the soul of the community.
Since February, Redstone Brightness Crews have paid utility bills, bought lunch, purchased back-to-school supplies, paid for groceries, covered cable bills and much more. No credit union membership is required. There is no catch. Just a request that the recipient pass on the kindness in some way.
Brightness Crews arrive at locations unannounced. Employees are only given the locations and addresses about an hour before they leave. Secrecy is important in this initiative as the acts need to be spontaneous in order to have the greatest impact on the recipients.
"It was a tough sale, but we have an incredibly open-minded president and executive staff," Trusty said of getting the go-ahead. "This is one of the few opportunities that we have to meet face-to-face with our community outside of our branches and say, 'We care.' We give money to hundreds of great organizations each year. But this time, our efforts were directly given and immediately felt."
How Much and How Many
So far, Redstone has bought groceries for more than 1,000 people, provided free gas to 636 people, paid $69,400 in utility bills and bought school supplies for 357 families. All told, $210,000 has been spent on the effort – much less than last year's give-back.
When crew members offered to buy Kevin Harris gas, he quickly agreed, but then went on to say what the gesture meant for him.
"I have been fighting brain cancer since Oct. 28, 2016. With the money I have been spending on fighting cancer, this was an awesome act of kindness that will stay with me for a long time. It was an act of kindness needed for a person who has been going through a lot."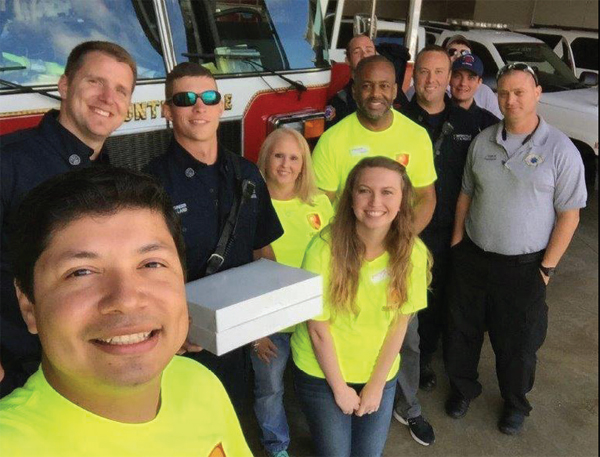 Redstone FCU's Brightness Crew poses for a selfie after bringing breakfast to the Marshall County Fire Department in Guntersville, Ala.
In Murfreesboro, Tenn., where Redstone has two branches, Cheyenne Hercules was on empty and starting to worry.
"It makes me want to cry," she said after a Brightness Crew member filled up her tank. "I can't work right now because I'm pregnant and it's a high-risk pregnancy. [My tank] was on E. I didn't know what I was going to do."
In Decatur, Ala., about 30 minutes from Huntsville, one woman arrived at Decatur Utilities to try and arrange a plan to get her electricity restored since she didn't have the $350-plus she owed. When Tracy Crutcher, a Redstone employee, told her she would be paying her bill in full, the woman started crying.
"I tried to hold it in, but this was a moment I couldn't, so I started crying with her. Then she reached over to give me the biggest hug while letting me know her boyfriend had just been laid off and she had been taking care of her little brother," Crutcher said. "It made me feel so warm inside to be a part of this and to see firsthand how Redstone's Acts of Brightness touches the lives of so many."
Employee Morale Boost
An unexpected benefit of the initiative was how it has energized and motivated Redstone's employees.
"This has been the biggest employee motivator we have ever done," Trusty said. "We never expected that. It has allowed our employees to give back in ways they never could have done on their own."
Employees from every department of this 900-employee organization have participated. There is always a waiting list.
It has been especially rewarding for the back-office or support staff who participated. "It is the best feeling in the world to bless someone who isn't expecting it," Erika Andrews, a branch staffer, said.
Eventually, people began equating the florescent yellow shirts with good deeds. Redstone members were proud to say "their" credit union was helping so many, while some non-members made the decision to join and others said it helped them see Redstone in a new light.
How many new accounts were opened due to this initiative? No one knows.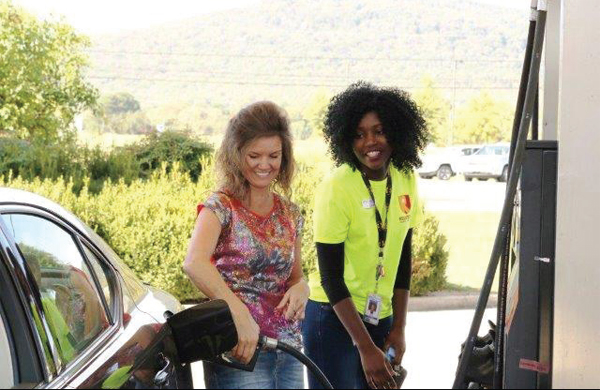 Redstone FCU employee and Brightness Crew member Lauren Dowdell, right, surprises a driver with free gas in October during Redstone Acts of Brightness.
"Redstone wasn't tracking the tangible, but the intangible," Trusty said. "Our president, Joseph Newberry, often says, 'A person will forget what you said. People will forget what you did, but people will never forget how you made them feel."
You Can Do It, Too
Determine the acts. Some are more costly to carry out than others. For example, buying school supplies costs about $57,000, whereas buying gas was about $11,600.
Select a crew chief who will request approval from the manager or owner at the site.
Stay a short time – about 20 to 30 minutes – and then head to the next location.
Set a per-person limit in the field. For example: $250 per person for groceries.
Work closely with your card services and accounting departments to distribute and expense the credit cards.
Don't be afraid to pitch a "crazy" idea.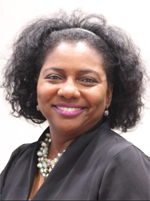 Patricia Lloyd is a Public Relations Specialist at Redstone FCU. She can be contacted at 256-722-3735 or plloyd@redfcu.org.