When Gordon Simmons grew the Service Credit Union from $292 million to nearly $2.8 billion over his 20-year tenure, he was considered one of the industry's most successful CEOs.
But starting in 2015, Simmons rapidly fell from grace after starting an affair with his administrative assistant, taking her on a business trip, forgiving her $38,000 loan, firing an employee who exposed the affair and lying about all of it to the board of directors.
These details surfaced in a counter lawsuit SCU filed against Simmons over whether the credit union breached two agreements to pay lifetime medical benefits for him and his wife. The lawsuit is on a temporary hold until a federal judge makes a ruling on motions filed by SCU's and Simmons' lawyers last month over whether the legal dispute should be heard in federal or state court.
Both agreements state that the credit union will not terminate or change the lifetime medical benefits for any reason other than for his termination before his voluntary retirement or resignation. Simmons claims the board accepted his resignation to allow him to retire. However, SCU claims the board agreed to a "forced and involuntary resignation" in lieu of Simmons' termination, which would have allowed the board to nullify the lifetime medical benefits agreement.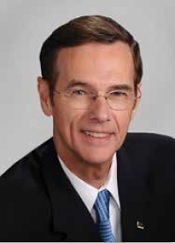 SCU filed a counter suit against Simmons in U.S. District Court in New Hampshire in May after the former CEO originally sued the credit union in a New Hampshire state court in April for breaching an agreement that SCU would pay for lifetime medical insurance coverage for him and his former wife.
SCU successfully moved the lawsuit from state to federal court because the legal dispute involves an employee benefits plan that is regulated by federal laws under the Employment Retirement Income Security Act of 1974.
In the lawsuit Simmons filed in New Hampshire Superior Court against SCU, Simmons also lists Sieglinde K. Simmons as a plaintiff though he does not identify her as his spouse. Simmons later admitted to the SCU that he left his wife. Though their marital status is unknown, they are both living at the same address in Riegelsberg, Germany, according to court documents.
Simmons alleged SCU breach two employment contracts. In the first one from 2014, SCU agreed to provide Simmons and his spouse medical, vision and dental insurance throughout the term of his presidency and thereafter until the death of both.
In a second agreement dated Nov. 25, 2015, SCU allegedly agreed to provide Simmons with lifetime medical care. In this agreement, however, Sieglinde K. Simmons was not identified as Simmons' spouse.
Simmons also makes no mention in his lawsuit about the events that led to his departure. On Jan. 27, 2016, the former CEO asked the board to accept his resignation and permit him to retire.
"Clifford Taylor, then chairman of the defendant's board, responded 'accepted,'" according to Simmons' lawsuit. "Mr. Simmons embraced or shook hands with each member of the defendant's board and left the building."
After receiving his bonus for 2015 on July 1, Simmons claimed SCU refuses to provide the lifetime medical coverage. According to SCU's 990 documents for 2015, Simmons' total compensation package totaled $1.8 million. What's more, SCU also provided Simmons with a home and company car.
In its civil counter lawsuit, SCU is suing Simmons for misrepresentation and breach of fiduciary duty.
When Simmons' sexual relationship with his administrative assistant began, he used the credit union's resources to support the extra-marital affair, including taking her on a business trip and charging the expenses to SCU, according to the credit union's lawsuit.
When another employee questioned the existence of the affair, Simmons allegedly got approval from the board that the employee be fired for, among other things, lying to Simmons, engaging in a personal relationship with staff and lack of trust. After the administrative assistant quit her job on November 20, 2015, he continued the affair with her and forgave $38,000 she owed SCU without any notice to the board.
On January 16, 2016, the board became aware of allegations regarding Simmons' financial improprieties, sexual relationship and other SCU policy violations. When confronted by the board on Jan. 19, Simmons said he was shocked about the allegations and expressed outrage that he would be questioned after his lengthy employment. Although Simmons admitted he was in a relationship with his administrative assistant, he said it didn't begin until after she left SCU.
Simmons was placed on paid leave pending an investigation, but before it was completed, he met with the board on Jan. 27 and admitted the allegations were true, according to court documents. He also admitted that he left his wife, moved in with the administrative assistant for a period of time but ended the relationship. However, that also turned out not to be true, according to court documents.
Simmons has denied SCU's allegations of misrepresentation and breach of fiduciary duty, court records show.