A true partnership can be a game changer. A strong partner can make you stronger. A loyal partner will go to bat on your behalf. A dedicated partner has your back when the going gets tough. Having the right partner on your side can make a huge difference.
Vendors provide a service for a price. But a CUSO is a true cooperative partner that adds value to enable the success of both the CUSO and its credit union owners. A CUSO delivers incremental benefits to its owners through scale in buying power, partnerships with industry leaders, and direct access to the services credit unions need to compete with banks and other financial services providers in today's marketplace.
CUSOs were founded, built and governed by credit unions for the purpose of giving their owners access to best-in-class products and services at competitive prices. The cooperative's owners contribute a collectively unique perspective on their strategic needs, which ensures the focus of the cooperative addresses the highest priority needs of its membership. Credit unions, not shareholders, are in control of the CUSO's product development roadmap, and the CUSO delivers on the roadmap by leveraging expertise of credit union executives.
There is a shared vision between a CUSO and its owners about what is truly important. Using ideas from the best and the brightest in the industry ensures best practices are shared, resulting in the best products and services available. Credit union owners should expect their CUSO partner to positively influence their performance across nearly all business disciplines and operations, spanning the spectrum of payments. Benefits of a CUSO partnership include:
Owners have the same tools and technologies at their disposal as big banks, and use the same data processing platforms. They can compete head on in areas including loyalty programs, digital payments, risk management expertise and more. By utilizing the power of collaboration, CUSOs can specialize in a given product or service, which enables them to provide higher-value products and services at a much lower cost.

Access to industry leading partners gives a CUSO's owners the opportunity for early adoption of new payments technology. EMV chip cards and digital wallets like Apple Pay, Android Pay and Samsung Pay are examples of sophisticated technologies that involve the coordination of many moving parts that are being successfully delivered to credit unions. This relieves owners of the burden of managing multiple endpoints, as well as provides access to services and expertise at far less cost than credit unions would incur by hiring individual experts.

Protecting the organization and identifying risk falls on an Enterprise Risk Management practice. A CUSO's comprehensive and integrated ERM practices and processes can effectively manage risk within tolerance thresholds and tightly align with owners' strategic objectives.

The cooperative ownership structure serves as a significant differentiator, as the profits of a cooperative are paid to its owners through annual cash dividends and equity investments in the CUSO.
In true cooperative fashion, a CUSO acts as an extension of a credit union's own staff through its commitment to delivering outstanding member service support. Owners are both shareholders with a stake in the company, as well as the client of the cooperative, and CUSO board positions are usually occupied by CEOs of the CUSO's owner credit unions.
Partnerships with CUSOs empower credit unions everywhere to offer competitively priced and innovative products and services that make a real difference in members' lives and at life's critical moments when their members' need for help is the greatest. The industry was built on serving the underserved, and on bonding the financial institution to members with a passionate sharing of values and relationships. The real value of the CUSO goes beyond dollars and cents, and is instead defined by the success of its owners. It is a true partnership in every sense of the word.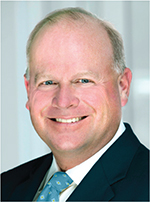 Chuck Fagan is President & CEO for PSCU. He can be reached at 727-299-2504 or cfagan@pscu.com.