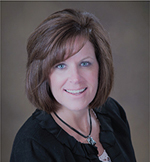 Stephanie Teubner is no stranger to change. Since taking the helm of the $906 million Blue Federal Credit Union in Cheyenne, Wyo., in 2005, her institution has changed its name, merged with a credit union and opened its field of membership into a second state. Now, as the credit union's footprint continues to grow – plans are currently in place to open a 13th branch location – she's looking forward to leading Blue FCU into its next phase of member service.
Like many credit union professionals, Teubner admits she "fell into" the industry as opposed to specifically targeting it as a career path. "I truly fell into it, I'll be honest," she said. "Knowing somebody helped me – it helps to know people."
Teubner got her feet wet in banking early on, however. She worked for a bank while attending the University of Wyoming in Laramie, but decided to take a different path post-graduation as a management trainee for the retailer Lord & Taylor in Denver. After a couple of years, she decided it wasn't for her, so she returned to the bank in Laramie. Then, she was offered a job as president of a small credit union in Casper, Wyo., the now-merged Energy West Federal Credit Union, where she remained for five years.
"At that time, I had a chance to get a sense and feel of the true credit union spirit and what it was all about," she said of her first official credit union position.
Her husband's career spurred a move to Cheyenne in March 2000, when she joined Blue FCU (which at the time was Warren Federal Credit Union) as vice president of administration. In the newly-created position, she dove into compliance as well as facilities management. One of her primary tasks was to renovate two existing facilities that had become dated, as well as oversee the building of several new facilities. When the CEO at the time, Maureen Tebo, left to run a credit union in New Hampshire, Teubner was promoted to an EVP position and finally to president/CEO 18 months later.
While it now serves multiple select employer groups, Blue FCU is deeply rooted in Wyoming's military community. Chartered in 1951, the credit union originally served members of several local air force bases and expanded into other SEGs over time. Teubner noted the credit union's military membership makes its online and mobile banking services all the more important, as many members don't stay in town for long.
"With a military membership, we have the ability to serve worldwide," she said. "When people come to Cheyenne, they're only here for a few years, and we want them to take us with them when they go. But we also have a good number of members who come back to Cheyenne to retire."
The credit union's merger with Community Financial Credit Union in Broomfield, Colo. – which happened on April 1 of last year, increased assets by nearly $200 million and resulted in its name change to Blue FCU – has been Teubner's biggest undertaking since becoming CEO. Teubner explained that since her credit union had been expanding into Colorado markets including Broomfield, located just outside Denver, and worked with several of the same CUSOs as Community Financial, the merger was a natural move.
"We were active in the Colorado market and very involved with several CUSOs, so we had been working with credit unions in Colorado and had a business relationship with Community Financial," she said. "There were a lot of synergies between the two."
With the merger complete, Blue FCU staff members have more time to focus on one of their favorite pastimes – community outreach. As part of its Do Gooders Unite campaign, the credit union offers members who open a new checking account a $100 deposit, which they may donate to charity, give to a family in need or do some other form of "good" with. Then, members are encouraged to share their stories of how they spent their $100 on social media. The credit union sets an annual goal for the program (last year, it was to open 300 new checking accounts), and upon reaching the goal, completes a community outreach initiative of its own. After reaching its goal of 300 new checking account openings, for example, it offered $30,000 to the city of Fort Collins, Colo., to install new bike racks in the city's downtown area.
"It's a really big deal and we love it," Teubner said of the campaign, now in its third year. "We've done clean-up projects and work with the VA. We call [employee volunteers] our Do Good Army. But the best part is giving the money to the members."
Expanding outside of Wyoming and into more populous communities has brought both opportunities and challenges to Blue FCU. Fort Collins, for example, is a college community, and has tasked credit union staff with learning how to appeal to a younger demographic. Teubner noted Blue FCU's fairly new core processing system, Corelation's KeyStone, which it converted to in 2014, allows staff to analyze member behavior by easily pulling valuable data.
"We've been working to better understand who our membership is, how to serve them and what their needs are, and that's been beneficial because it led us to embrace data and learn how to use it to make better business decisions," she said.
When it comes to her impact on Blue FCU's bottom line since becoming CEO, the numbers don't lie. From 2005 to 2016, assets shot up by nearly 421%, from $174 million to $906 million; loan volume increased by 427%, from $145.4 million to $766.8 million; and share volume rose by 434%, from $148 million to $791 million. In addition, membership increased by 193%, from 25,341 to 74,265, and branch count doubled from six to 12.
As a CEO presiding over about 260 employees, Teubner follows a leadership philosophy of transparency. She writes a weekly blog, is committed to empowering staff members and allowing each of their voices to be heard, and never wants an employee to feel intimidated by her.
"I'm very visible," she said. "I try as much as I can to engage with everyone, and I get surprised when people get nervous around me – I'm not that kind of person. I really don't have anything to hide. Especially when it comes to strategies or what happens in a board meeting, I like to come back and tell people what's going on."
Falling into the credit union industry was certainly a good thing for Teubner, as she now believes whole-heartedly in its people helping people philosophy and finds great meaning in her work.
"I am a big believer in the grassroots initiatives and member ownership piece of it," she said of the industry. "The member decides what service means, and what products and services we offer. We have a board that represents that membership and has a voice. The other difference is the people you get to work with. The people I've been able to experience have been amazing."