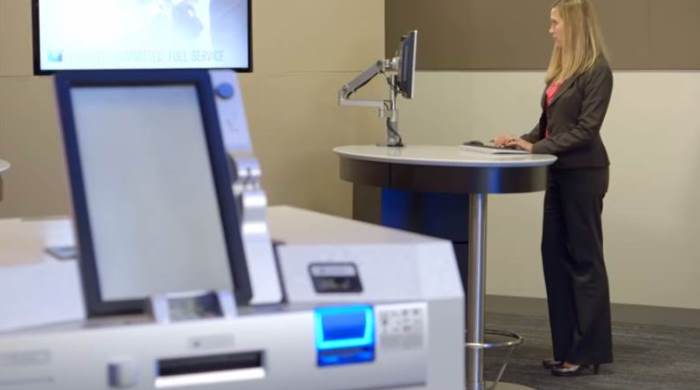 The rising demand for self-service solutions is driving many financial institutions to make big bets on ATMs over the next few years, though the cost and technology involved is daunting, according to ATM Marketplace's latest "ATM and Self-Service Software Trends" report.
Most Expect Big Changes Soon
The survey of 434 financial institutions and other organizations found 68% expect they will support cardless and contactless ATM transactions and 58% will have ATM functionality via mobile within the next four years. Some 56% said cash and coin recycling will be part of the ATM experience by then; 55% said teller transaction functionality will be available then as well.
"Planning for the customer experience is paramount and can make or break a bank's reputation — especially in an era of instant experience-sharing and online reviews via social media," the report said.
ATMs Expected to Lead Branch Transformation
Many financial institutions also believe ATMs will be a major force behind branch transformation over the next four years.
When asked where that transformation will occur, about half of the respondents (48%) said the customer's phone will become a transaction device; 48% also said over-the-counter teller transactions will migrate to ATMs. Omnichannel ATM integration with back-end systems, and support for biometrics and other authentication each got about a third of the respondents' votes, according to the report.
Today's Pain Points: Cost and Complexity
For 44% of respondents, the cost of managing ATMs is the biggest source of pain today, according to the survey. Technological infrastructure for ATMs is also a problematic area, with 39% pointing to issues with ATM reliability and availability, and 34% acknowledging a need to improve the customer experience. Fewer than 20% said things such as transaction speed, functionality issues, insufficient real-time or management reporting, lack of remote control or vendor issues were their biggest ATM struggles today.
About a quarter of respondents (27%) said they push out ATM software updates as needed, whether weekly or monthly, to keep their software current. However, 21% said they upload software releases to their ATMs once or twice a year.
Tomorrow's Pain Points
Half the respondents in the survey said most of their focus in ATM technology will be on integrating mobile devices over the next four or five years. Some 42% said they'll be focusing on adapting new concepts for the user interface into their ATM software technology.
However, ATMs will still cost money and will likely become even more technologically complex. And for financial institutions in the survey, those hurdles are the biggest obstacles between them and the goals they have for their ATM fleets by 2020.
Notably, just 24% said migration to new operating systems would get the most focus in the next four or five years. However, 57% said they have migrated to Windows 7 or are in the process and haven't planned for another migration. About 36% of the respondents said maintaining security would be the biggest challenge to achieving their ATM goals for 2020, but a quarter of respondents (23%) said security-related technologies would get most of their focus over the next four or five years, according to the survey.
"What is becoming obvious is that the banks with the best technical infrastructure are more capable of enabling the technical changes required to deliver better processes and a more rounded customer experience in branch," Wincor Nixdorf Global Software Engagement Manager Brendan Thorpe said in the report.