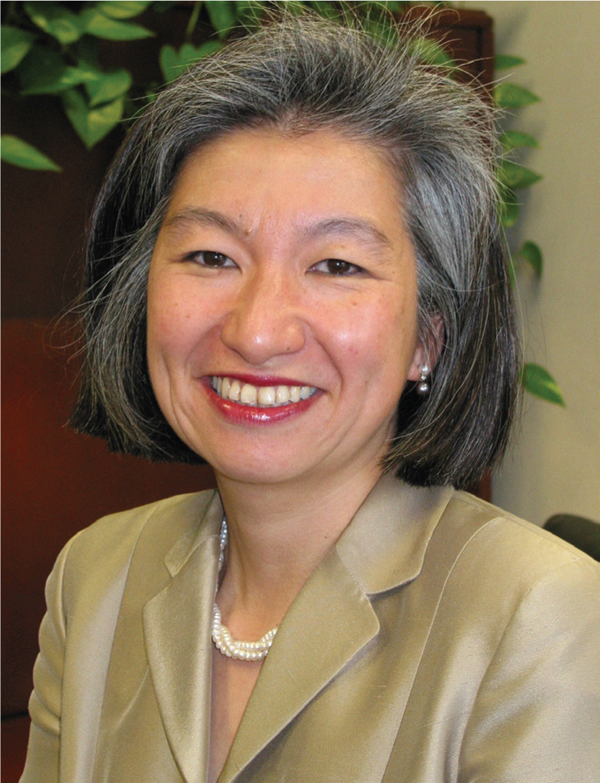 Credit unions and their regulators often appear to engage in a constant battle with one another, but at the Arlington, Va.-based NASCUS, the two groups have found strength in collaboration.
That was one of the most appealing aspects of NASCUS that Lucy Ito found when she accepted the president/CEO position at the organization in 2014. Now one year into her role, the former EVP and COO for the California and Nevada Credit Union Leagues also said she has been pleasantly surprised by the number of do-gooders in Washington.
"Since I've been in D.C., I've come across a lot of public servants, I've been impressed by how they solve problems," Ito said. "Sometimes it's easy to criticize people in Washington and say nothing is happening, but behind the scenes there is a lot of good work being done."
Ito was first introduced to the credit union industry after graduate school, when she took a research position at WOCCU. She admitted she originally viewed the credit union world as slightly cultish, but said it didn't take her long to drop that preconceived notion.
"When I had my orientation at World Council, I was intrigued by the cooperative financial services idea," she explained. "I thought it was cool and maybe a little cultish, but it didn't take me long to get over that fear of the cult movement and catch the credit union bug."
Ito went on to serve 10 years with the California and Nevada leagues before taking the top spot at NASCUS, which, as she noted, nurtures a unique credit union-regulator relationship.
"You might think regulators and credit unions are on opposite sides, but both want safe, sound financial institutions," she pointed out. "It's interesting to watch regulators have 'aha' moments when they hear from credit unions."
This sense of collaboration came into play as NASCUS took action in regard to several hot industry topics over the past couple of years.
For example, when the first version of the risk-based capital rule came out, NASCUS' response included a combination of safety and soundness concerns from the regulator side, as well as worries related to the operations and competition from the credit union side.
Another thing that attracted Ito to the job, she said, was the unique innovation that can happen at the state level. Plus, since state regulators also regulate banks, they possess great risk management expertise that has come in handy for state chartered credit unions.
"Nationally, it's sometimes hard to say, 'Let's try this for the whole country,'" she commented. "But a state setting is a small environment where you're able to do some experimenting."
One especially hot issue NASCUS has been vocal on is marijuana business banking. In July, NASCUS backed a bill that would clarify the legality of providing financial services to legal marijuana businesses, stating that by resolving conflict within the law, the communities that have legalized pot and the financial institutions that serve them would be made much safer.
"This is a good example of where states not only can, but have to innovate," Ito said in regard to the marijuana business banking issue. "In those states, there are security issues because [the businesses] have to operate in cash, and they become targets of local crime. Can you imagine if you were paid in cash and the crooks knew, how much you'd be a target for personal robbery? So there's a concern for the employees. Plus, these businesses have to pay their state taxes in cash, which means getting an armored truck. Just imagine trying to document what you're paying in taxes, and documenting compensation."
While the issue has ignited much controversy, Ito said she believes most people understand the security issue and have put their feelings about the drug itself aside.
"Just like any other business, these businesses have a right to plug into the financial system where it's legal," she said. "Leaving the type of business aside, you want them to operate in a safe environment and not put citizens at risk."
Another issue that NASCUS has been at the forefront of this year is the NCUA's overhead transfer rate. Earlier this year, the association called on the agency to release all of its documents related to the OTR. The NCUA published some information online, but refused to publish a legal opinion regarding OTR methodology and calculation. The regulator said the document was considered an attorney work product, and was therefore privileged and confidential information exempted from the Freedom of Information Act.
Later, the NCUA announced it will seek public comment on the methodologies used to calculate the OTR after it is published in the Federal Register in January 2016.
"You see, the OTR has gone up, but at same time, the operating fee for federal charters has gone down, so it's counterintuitive," Ito noted, adding that she's very pleased NCUA Chairman Debbie Matz chose to open the OTR to public notice and comment. Ito said she hopes the feedback will be taken into account during the next budget process. The NCUA board typically approves annual budgets at its November meeting.
Ito also praised the NCUA's support for implementing supplemental capital in future rulemaking, calling it "a huge advance for the credit union system," despite the fact that the agency voted not to include it in its final risk-based capital rule (RBC2).
"Should supplemental capital come to pass for the next financial crisis, it will be a better tool for managing risk," she added. "As far as RBC itself, it's been a long, long process, and there have been some huge changes compared to what the first proposal looked like two years ago, so that's good for the system."
Looking back on her first year at the helm of NASCUS, Ito said one notable occurrence is that 13 federally chartered credit unions converted to state charters, while just three state chartered credit unions converted to federal charters. Why? In the cases of state chartered cooperatives converting to federal charters, it's to expand fields of membership. In other cases, it's due to interstate branching authority, she noted.
"It's not a competition, but it's really great that credit unions have the ability to choose their charter," she said.
Upon entering her role, Ito said she arrived with a commitment to build on the organization's past and protect the dual charter system. She was also charged with making NASCUS more visible.
While this year is the organization's 50th anniversary, she said NASCUS has focused less on the promoting the milestone and more on pushing big issues – namely the OTR.
As far as the state credit union system is concerned, Ito said she foresees several key challenges. First, she explained that as more specialized expertise is needed in the credit union space – especially on the topic of cybersecurity – it's difficult for state chartered credit unions to keep pace due to smaller state budgets. Second, just as federally chartered credit unions do, state chartered cooperatives face compliance burdens, especially from the CFPB, she said.
Finally, she noted that due to these challenges, there is a big picture threat against the strength of the entire dual charter system.
"Now I believe the dual charter system is alive and well, and we're committed to it, but it would be a shame if it weren't as dynamic and robust as it is now," she said.