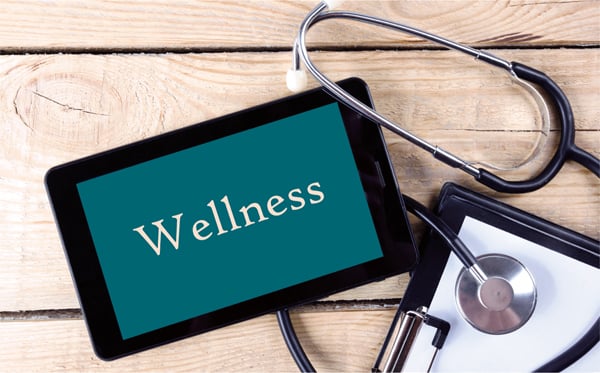 Employees of the $1.1 billion Goldenwest Federal Credit Union in Ogden, Utah, find their smartphone wellness challenges to be a bit quirky and snarky … but they love it.
At the $532 million Maps Credit Union in Salem, Ore., employees go to bed with their Jawbone devices to track sleep quality.
Professional neck massages at their desks help employees at the $1.1 billion Allegacy Federal Credit Union in Winston Salem, N.C., decompress from their work-related stresses.
And at the $8.7 billion Security Service Federal Credit Union in San Antonio, employees can call a health coach to answer their personalized questions, a money coach to guide them through challenging financial issues, and an employee wellness advisor when personal troubles storm into their lives.
These are just a few examples of how credit unions are transforming their workplace wellness programs through mobile and wearable technologies, social media, personalized coaching, customized financial advice, and emotional or mental health guidance for employees and their immediate family members.
What's more, credit unions report positive ROI results typically develop over two to three years. Savings are primarily realized in lower employee health claims that can control health insurance costs. Because of its success, Allegacy Credit Union, through its CUSO Allegacy Business Solutions, developed a new service that offers credit unions and other businesses a blueprint for how to start, develop and operate their own customized employee wellness programs.
When wellness programs began to emerge in the credit union industry about 15 years ago, they typically involved health fairs that provided flu shots, cholesterol, glucose and blood pressure checks, discounted gym memberships, pedometer walkathons and weight loss challenges. These programs yielded some positive results that lowered or controlled health care costs, decreased absenteeism, and increased employee morale and productivity.
Over the last few years, however, credit unions have been expanding their wellness program offerings to keep their employees engaged and healthy.
"We reached a point where we realized our wellness program needed to be refreshed because it was just about steps basically, and we tried to add nutrition and other challenges, but it was sort of a one-size-fits-all," Anne Hoeffner, assistant vice president of compensation, benefits and payroll for Security Service FCU, said. "We began to think about what we could do to customize the program more for our employees."
That opportunity came in 2013 when the cooperative switched to a new healthcare insurance carrier that offered personalized physical fitness recommendations and goals based on employees' health assessments. The insurance company also provided a smartphone app that gave employees access to their wellness information and a health coach for personalized advice.
One year later, the credit union renamed its wellness program Total Well Being and rebranded it to include emotional and financial fitness.
"Our president/CEO James Laffoon really wanted to take this program to the next level," Amanda Kassler, Security Service FCU's manager of compensation and benefits, said. "We have a firm belief that any employee who is physically, emotionally and financially fit is happier and more productive."
The credit union hired a third-party contractor that offers each employee a money coach for customized financial guidance. Security Service also hired a service contractor to provide counseling services for employees and their family members when dealing with difficult situations such as a death in the family, divorce or other problems. In addition, Karyn Draeger was hired as the credit union's wellness advisor to provide employees with resources that can help them with workplace, personal or family issues.
Taking a holistic approach to the wellness needs of employees was something Goldenwest FCU wanted to deliver to its staff in 2012.
Ashley Shreeve, assistant vice president of human resources for Goldenwest FCU, said the decision to offer employees a wellness program was initiated by President/CEO Kerry Whalen.
"His concept was really simple when he said that we are asking our employees to do with their bodies what they are not meant to do for eight hours a day, which is to sit at a desk," Shreeve said. "So we really needed to look at a benefit to counterbalance that and offer employees something that rewards them for taking a proactive approach toward their own wellness however employees define it."
Whalen then heard about hubbub health, which offers a web-based solution that leverages social gamification and rewards for achieving simple, incremental goals. The program is designed to motivate employees to start and maintain their own customized wellness journeys.
"What we realized five years ago [when the company was founded] was that the whole approach of mandating wellness behaviors by the employer and expecting employees to acquiesce wasn't working," Brian Berchtold, vice president of sales and marketing for huhhub health in Portland, Ore., said. "It's really about what is going to motivate individuals to take ownership of their personal health and the health of their families. And that's where hubbub health brought a paradigm shift to the whole wellness industry."
One of the main features of hubbub health is its unlimited challenge platform, which is accessible through any mobile device. The challenges include tasks to accomplish over a number of days related to fitness, better food choices, meditation and relaxation, socialization, volunteering and other activities.
Overall, the challenges are designed to allow employees to participate in a variety of tasks based on how they answer assessment questions. Friendly competition, social interaction and rewards can help motivate them to achieve those tasks and continue taking on new tasks that can contribute to their overall well-being.
As an example, one challenge under physical fitness, or the "move" category as Hubbub Health calls it, is for employees to walk 8,000 steps a day for 14 days to achieve the goal of walking 90,000 steps. The challenge notes that the first glimmer of the idea that walking was good for you surfaced in 1953, when a Scottish scientist studied the health of bus conductors versus bus drivers. The conductors – who moved around all day collecting tickets and monitoring hooligans – had fewer heart attacks than the drivers who sat all day driving.
After employees choose to sign up for the challenge, they post how many steps they took at the end of the day. The app also tracks the challenge's leaders and how many steps they took. Those who achieve the 90,000 steps goal receive credits for Amazon gift cards and other rewards.
"If you read some of the challenges, they can be a little bit quirky and snarky," Shreeve said. "And we like that. Our employees like that. Hubbub customizes the wellness program to the employees' needs. It's exactly opposite of the one-size-fits all approach because one size does not. Hubbub is a program to help employees decide what they could do to improve their wellness from drinking an extra bottle of water a day to training for a triathlon, or wherever they are at in their own wellness journey."
The Hubbub challenges that incorporate wristband technology have been among the most popular with Maps employees. The wristband fitness trackers monitor and record a person's activity in walking, running, heart rate, calories burned, distance walked and sleep. Hubbub automatically syncs with Fitbit, Jawbone, Withings and Moves.
To further motivate employees of Maps to participate in a daily 8,000-step challenge for two weeks, the credit union gave each one of them a Jawbone.
"We usually have about 40 to 60 people participating in a challenge, and with this 8,000-step challenge we had 98 because all of them got a Jawbone," Barbara Cecil, Maps director of human resources, said. "It's probably something we are going to do more of in the future because people were engaged and excited. This Jawbone device also tracks how well you're sleeping so we are doing a sleep challenge this month, too."
According to some business surveys, CEOs lose sleep over the rising costs of health care insurance.
"In 2008, wellness programs were just really not a big thing, but our former CEO Ike Keener knew where health care costs were trending, and this was something that made a lot of business sense for him," Jill Lackey, vice president of consulting services at Allegacy Business Solutions, Allegacy CU's CUSO, said. "But the main reason he started a wellness program was that he knew it was just the right thing to do."
With a few basic wellness programs, Allegacy CU launched its culture of health.
In addition to offering health risk assessments, free health screenings, biometric screenings and onsite coaching for employees, the credit union also offers financial and paid time off incentives, fruit of the month deliveries for every employee and discounted YMCA membership for employees' families.
Additionally, Allegacy expanded its wellness programs to include services for emotional and financial wellness. For example, employees are offered hospice counseling when there's a death in the family.
Lackey said financial wellness is a key component to the program because money troubles can lead to emotional and physical problems.
"We like to believe employees of credit unions are exempt from that, but unfortunately, that is just not the case," she said.
Two to three years after Allegacy began its wellness program, the return on investment began to roll in.
From 2011 to 2013, the credit union had no increase in its medical premiums and saw its health care insurance claims drop by nearly $500,000. In addition, the number of average work time lost due to sickness or accidents fell by almost 13% since 2010, and employee health risk factors declined by 2.4 per employee to 1.2 per employee.
When other companies began asking Allegacy how they achieved its success, executives decided to develop a consulting service through Allegacy Business Solutions that would give other businesses of all sizes the blueprint, tools and advice needed to start and operate their own customized wellness program.
Allegacy also offers a program for smaller cooperatives and businesses that provides some of the same wellness services at a lower cost.