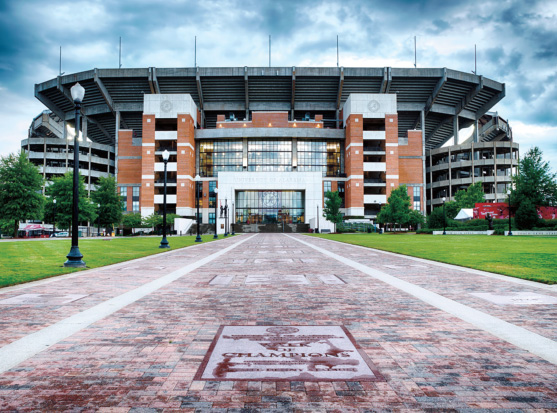 TALLADEGA, Ala. – Loaning money to Danny Butler did not always center on regulatory orders, court fights and alleged forgeries as it has over the last few months. In his prime, Danny Butler said he showered the fruits of his success on executives and lawyers at Alabama One Credit Union and West Alabama Bank and Trust in the form of wholesale priced-vehicles, free trips to beachfront properties and seats in one of the exclusive skyboxes at the University of Alabama's Bryant-Denny Stadium.
According to court records, Butler, who is serving a sentence for defrauding the Small Business Administration and kiting checks between West Alabama Bank and Trust and the $602 million, Tuscaloosa-based credit union, said he made sure executives at both institutions, along with their families and friends, had access to the good things in life, particularly cars at wholesale prices.
Over 30 years, Butler built a very successful business wholesaling cars that, he said in an interview with CU Times, eventually led to his doing business with all of Tuscaloosa's automobile retailers. He said automobile retailers took used cars in trade for new ones, sold them to Butler for an agreed-upon price, and Butler then found buyers for them.
Most of Butler's customers paid a bit more than Butler had for the cars, but executives with WABT and Alabama One paid only what Butler paid, according to Butler's sworn testimony in court and other court documents. On May 22, for example, Butler testified that Alabama One CEO John Dee Carruth purchased from him a BMW 735 for his wife Kim for whatever Butler had in it, he said.
According to a transcript from the May 22 hearing, Butler testified that Carruth had asked him to find the car and, when asked by Justice D. Smyth of Tuscaloosa law firm Lewis, Smyth, Winter and Ford why he felt Carruth had asked him to find his wife a car, he replied that Carruth wanted a less expensive luxury car.
"Well, when you got a used car business, he thought I would get a good deal on one," Butler said.
In the same transcript, Butler explained that he had purchased a similar car at an auction for Richard "Dick" Holley of West Alabama Appraisal to give to his parents, and that he purchased similar vehicles for then Alabama One Member Business Loan Manager Tammy Ewing, along with other Alabama One employees. He also said he purchased a car for Carruth's mother.
However, in a later interview, Butler clarified that Ewing had asked him to get Holley's vehicle, and that it was for him and not his parents.
Holley appraised the properties underpinning many of Alabama One's mortgage loans in the last decade, which included high appraisals on some of Butler's mortgage loans, court records showed.
Other executives received different high-end items: Celina Hood, a teller at the credit union and Butler's one-time girlfriend, received a watch, jewelry and occasionally money, according to Butler.
Alabama One executives were not the only individuals to enjoy the largess, according to Butler's May 22 testimony. Alabama One's leading outside attorney and his family also enjoyed the use of an $80,000 pontoon boat that Butler had purchased used for $56,000, his testimony stated.
According to the transcript of his testimony, Butler described how Chris Hayslip, Butler's former employer at Tuscaloosa Toyota and brother to leading Alabama One outside attorney Vic Hayslip, wanted to use the boat.
Vic Hayslip was and still is a partner at the Birmingham firm Burr Forman.
"He [Chris Hayslip] said he just didn't want to buy one right now, he just wanted one to use and [he was] asking me if I would rent it to him, but he never did pay me. So he used the boat for a month or two," Butler said in the transcript.
In fact, Butler said, Chris Hayslip used the boat so much that several other friends of Butler's, who also wanted to use it on occasion, arrived at the boat dock at least once to find he had already taken it.
Butler also reported in a subsequent interview that he had helped Vic Hayslip purchase a Lexus at the wholesale price, and Butler's records confirmed the purchase.
Read more: WABT execs also received autos …
West Alabama Bank and Trust executives also enjoyed Butler's auto resources, Butler testified: "Tab" Swann, an executive with WABT, bought pickup trucks and a utility vehicle at wholesale prices from Butler, and his wife also bought a car.
Butler also purchased three beachfront condos and homes, either on his own or with partners, as investment properties, and testified that he allowed Alabama One executives to use them free of charge. According to Butler, Ewing, Hood and several of the credit union's tellers were able to use the property.
He added that Swann and other bank executives used the skybox he and two partners obtained at the Bryant-Denny Stadium at the University of Alabama.
Football is huge in Alabama, and the university's Crimson Tide football home games at Bryant-Denny were immensely popular – access to one of the stadium's 159 luxury skyboxes was hard to come by and required a minimum $500,000 donation to the university's charity, the Crimson Tide Foundation, as well as the payment of annual fees, according to the university's website.
Butler said Swann as well as other WABT executives would use the box, though he could not recall the names of specific other executives.
When asked why he had provided all these things – the wholesale cars, the beachfront property access and the use of the skybox – and whether he had expected anything in return for them, Butler put them in the context of friendship.
"Being just a good friend I guess," Butler said, according to the transcript. "And, you know, they do stuff for me and I do stuff for them type [of] thing."
Neither executives with Alabama One, nor Burr Forman, nor West Alabama Bank and Trust commented on Butler's May 22 testimony, particularly on whether either institution has a policy on employees accepting gifts from borrowers.
According to public records, from 2008 through 2009, Alabama One modified an initial $3.5 million dollar loan to buy the land and build the Fosters Water Treatment Plant three times, moving the limit of the loan up by roughly $1 million each time until it reached roughly $7 million.
The property has been admitted into bankruptcy proceedings at $7.1 million, according to federal court records.
Aside from presenting an initial budget and income projections from the project, Butler testified that Alabama One dispensed the money and then largely disappeared – leaving him free from submitting further budgets on the project, his choice of a contractor to build the sewer plant, or copies of the checks used to pay for the construction.
In the May 22 testimony, Butler estimated the treatment plant had cost between $3.5 and $4 million to build, and that he spent an additional $1.8 to $2 million on running sewage lines from the plants to various institutional customers in and around Fosters, such as schools, a post office and a Chevron gas station.
Butler testified that the credit union provided the money in a lump sum up front in each modification, and never asked for any report on how the money was being spent, according to the May 22 transcript.
The transcript was unclear regarding whether Butler could have provided such a report because he did not ask for progress reports from his contractors or even what they had done to justify any given invoice.
However, Butler said he recalled that Ewing had asked for an appraisal on the property with a completed sewage plant as well as some plans for eventual development.
That appraisal, dated March 30, 2009 by Mary Jane Watson of the Tuscaloosa firm Green and Company, put the value of the land and plant at $9.125 million. Of that, $4.1 million was the amount of the actual land and plant, with the commercial land being worth $1.6 million and the residential plant $3.4 million.