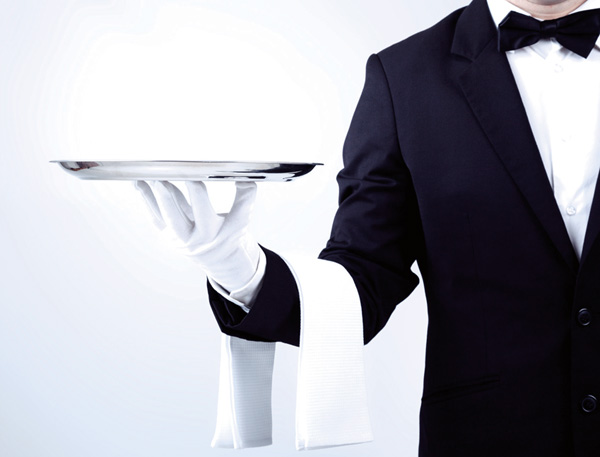 Is life so busy that you need someone to buy groceries for you? How about planning your family vacation or picking up the homework your kid forgot and ferrying it to school?
If you worked at $2 billion Baxter Credit Union in Vernon Hills, Ill., the credit union's staff concierge service would do all those things for you and more, perhaps even while you're sitting in the credit union's "mani-cube" getting your nails done.
The services are part of a growing BCU initiative to help employees better manage their work-life balance, Matt Kemblowski, the credit union's talent acquisition manager said. It's also part of BCU's strategic initiative to attract and keep top-rated employees in the highly competitive Chicago market.
"We started the concierge service in December, and it has become a big thing," Kemblowski said. "It explains how we take care of our own folks."
It also offers BCU attractive and unique benefits that are central to helping the credit union hire top talent and increase staff productivity. And, it's an effective card to play when seaching for talented candidates to fill the growing credit union's positions.
As the U.S. economy improves and more jobs are created, attracting top talent continues to be a challenge for businesses of all kinds, including credit unions. In many cases, employers become the seekers and potential employees the customers that companies are trying to attract to their "brand," according to Cindy Waxer, a contributing editor at publisher Ziff Davis who specializes in HR issues.
"The war for talent has intensified," Waxer said during a February Ziff Davis webinar titled "The New Courtship: How HR Tools are Wooing Candidates."
"Finding and hiring top talent is a chief concern of 42% of employers," she said.
Increasingly, HR professionals are tapping into social networks like LinkedIn and using workforce analytics to narrow down candidate searches to those with the best combination of qualities.
LinkedIn has 332 million members in 200 countries, Waxer noted, and 94% of major companies use it as part of their search efforts. Of that, 79% say they have hired employees found on LinkedIn, she added.
"Social media sourcing needs to be a daily part of every HR executive's life," Waxer said. "It's equally as important to build the company brand through social media and use it to attract good candidates."
Social media, and especially LinkedIn, is a favorite tool at BCU, Kemblowski said. He also uses Career Builder, Indeed and Dice, a niche website that specializes in technology jobs. In addition, BCU staff travel to schools and student jobs fairs both to establish the credit union's identity as an employer and seek out candidates for part-time and work-at-home positions.
Once a candidate has been selected and an interview arranged, Kemblowski coordinates schedules so that everyone who needs to interview the candidate is available on the same day at the same time. The single-visit strategy helps the credit union demonstrate that it values the time of its candidates, Kemblowski said.
"I think we have to keep the gap time small and maintain the single interview approach so people can be more selective," he said. "When we're interviewing candidates they're interviewing us so we have to stand out from the competition, too. We do a great job at that."
Kemblowski said she knows that BCU or just about any credit union won't win when it comes to salary levels, so he looks for other benefits to tout. The list includes the three-month-old concierge service, which is unlike any other job benefit Kemblowski has ever seen.
"We have one concierge here full time and her services are used a lot," Kemblowski said. "You should have seen how busy she was at Christmas time!"
Along with the concierge service and the mani-cube, BCU also brings in a masseuse to provide massages once a week, hosts summer cookouts and even ice cream truck visits where anyone on staff can select a frozen treat compliments of BCU.
Staff turnover rates are a little below industry standards because of all that, Kemblowski said. The 2014 turnover rate of 13%, of which 7.3% was voluntary and 5.7% involuntary, was higher than the 9.8% turnover rate in 2013, but still well below financial industry averages, which Kemblowski said in Chicago rank somewhere in "the high teens."
BCU also keeps climbing in the ranks of the Chicago Tribune's annual poll of best Windy City employers, Kemblowski said. BCU's 2012 rank of 30th place rose to 25th place in 2013 and 20th place in 2014. The rise said a lot about how well BCU's employee retention efforts were working, he added.
"We're a little unique, maybe a little quirky, and people feel at home here," Kemblowski said. "We try to hire for a cultural fit as well as skill set because that's important."
In addition to using social networks to create candidates as customers, mastery of workforce analytics also is critical to hiring success, according to Waxer. Candidate assessment tools are critical, both for external candidates and internal ones who want to advance to new positions within the organization.
Several years ago $1.9 billion California Coast Credit Union in San Diego developed its "Employer of Choice" program not only to attract top candidates in what CCCU President/CEO Todd Lane described as a very competitive credit union market, but also to make sure talented employees had ample opportunities for promotion from within.
"We put our leadership development program in place a little more than two years ago and each year we attract participants from all levels in the organization," Lane said. "The program helps them build leadership skills unique to their personalities and positions."
The classes, which so far have ranged from six to nine participants, are dictated by the interest of the employee and support of his or her supervisor. Each participant is assigned a mentor, who will work with the participant to cultivate those skills necessary to move the participant in the desired career direction.
Class members participated in all strategic planning sessions no matter what their current rank, and a 360-degree evaluation process assessed strengths and weaknesses from numerous points of view. The mentors then worked with the participants to cultivate the necessary skills as outlined by the evaluation.
"It's a program that requires a lot of initiative from participants themselves," said Lane, who mentored a participant in each of the two groups that have already gone through the training. "We have had two graduating classes and many of them have been hired into other positions that require different levels of leadership."
Of course, such efforts can be too successful, and every once in awhile a participant slips away.
During the first class Lane mentored former IT staffer Chris Whitney, who wanted to move into more of a management role. Half way through the session Whitney was offered the type of management job he was looking for, but at another credit union. Lane and Whitney are still friends and still keep in touch.
Lane had a little better luck with his mentee in the second class. Branch employee Christy Mortlock had aspirations to become a branch manager and, Lane said, worked very hard as a participant in CCCU's leadership development program to achieve her goal.
Last year when the credit union announced it would open a branch in Encinitas, Mortlock applied for manager and got the job. Her success spoke well of both the candidate and the program, Lane said.
"We're batting 1,000% so far," Lane added. "All of the participants have been fantastic, and even those that don't get promoted have advanced their leadership skills and they're an enhancement for the credit union."
In February, CCCU won its sixth Peter Barron Stark Companies Award for Workplace Excellence, a local honor that recognizes top-tier organizations committed to a culture of workplace excellence, and is limited to those companies that achieve an overall favorable response of 80% or more on their employee opinion surveys. Lane said he appreciates the accolades, but knows the real honor comes in creating a work environment that attracts and retains high quality employees, including those participating in its leadership program.
"Anecdotally, we know the program helps curb attrition, but it also tells staff members that they have an employer who cares enough to invest in them," Lane said. "This shows a commitment that you can't find everywhere, and employees are more apt to stay because of it."