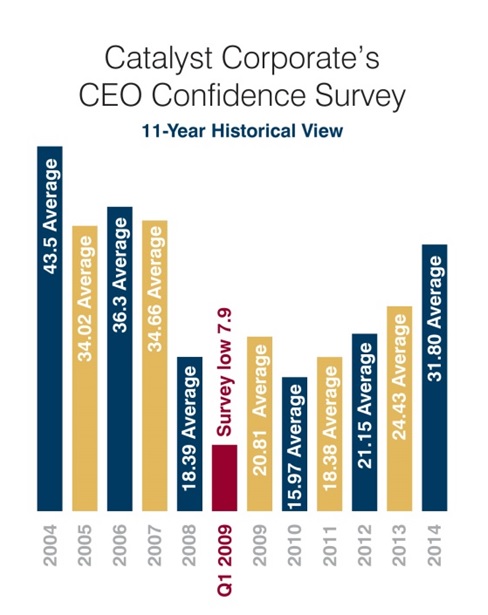 Credit union CEO confidence continues to rebound based on the results released today from Catalyst Corporate Federal Credit Union's Fourth Quarter 2014 Credit Union CEO Confidence Survey.
Catalyst's CEO Confidence Index now stands at 32.64, up from 31.29 in the third quarter of 2014. The fourth quarter mark is slightly ahead of the 2014 annual average of 31.80, the highest annual average since 2007.
"The factors that caused CEO confidence to deteriorate during that time are fairly obvious," said Steven Houle, vice president of Advisory Services at Catalyst Strategic Solutions, part of Catalyst Corporate FCU. "That was the beginning of the Great Recession. All financial institutions – and most American consumers – were affected negatively."
Catalyst Corporate's confidence index first headed south in the fourth quarter of 2007, plunging from 39.27 to 23.80. The index did not rise above 30 again until the first quarter of 2014. CEO confidence recovery aligns well with the economy overall, Houle noted.
Like the economy, however, CEO confidence still has room for improvement.
The survey's Present Situation Index increased from 31.57 in the third quarter to 33.54 in the final quarter of 2014, and the Expectation Index also improved, from 31.15 to 32.19. All other measures in the survey rose quarter-over-quarter, with the notable exception of "Credit unions' financial condition in six months," which declined by 2.34 points to 40.55.
Catalyst Corporate's quarterly confidence survey – started a decade ago – surveyed 2,228 credit union CEOs across the nation in January 2015. Of that number, 201 credit union professionals responded, for a 9% response rate.
The survey measure current and anticipated financial conditions for both credit unions and their members. It also measure anticipated loan demand and share deposit growth for the credit union six months out.