The numbers for mobile device bill pay usage have spiked in the past year. In fact, only consumer adoption of online banking comes close to the market share mobile applications are capturing on an almost daily basis.
The Seventh Annual Billing Household Survey released in December by Fiserv revealed rapid growth for mobile bill payment, according to Eric Leiserson, senior research analyst at the Brookfield, Wis.-based firm.
In 2012, eight million U.S. households made some sort of payment from a mobile device. By 2014, the number had risen to 27 million.
"It's the classic 'hockey stick' adoption/diffusion scenario," said Leiserson, referring to trends that experience a sharp uptick after a relative period of calm. "I get excited about this because there's real value creation when you do things with a mobile device."
According to the Fiserv survey, 65 million U.S. online households now have a smartphone, and 40% of smartphone owners pay bills from their phone. Overall, smartphone bill payers paid an average of two bills a month from their phones, the data showed.
The mobile bill pay market is even more robust for millennials. Among members of the demographic cohort born between 1980 and 2000, 62% have paid a bill using their smartphone, and millennial users paid an average of three bills a month from their phones.
"We're observing tremendous growth in mobile that's happened for financial institutions, including credit unions, and it's growing because it's creating value" Leiserson said.
The most popular bills paid via phone included mobile at 15 million, cable at 14 million and electricity at eight million, according to the survey. In addition, among smartphone owners, 60% said a mobile payment option would improve their satisfaction with the biller.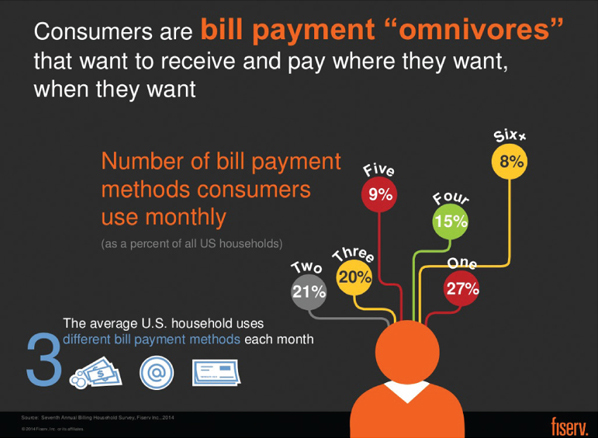 The convenience, ease and consumer service orientation make mobile bill payment a natural fit for credit unions, Leiserson said.
"Credit unions are all about providing an amazing member experience," Leiserson said. "If you don't have a compelling mobile strategy or user experience, you risk lower member engagement for all types of activities. Ultimately, you become less relevant because the consumer will find other ways to make their mobile payments."
Mobile bill payment's rapid growth has caught a lot of institutions off-guard, and many institutions are committing serious resources to become part of what is quickly becoming a runaway market, Leiserson said.
"The stats are incredible," he noted. "They show consumer demand and expectations to utilize and have available mobile experiences that rival Amazon or PayPal. Big banks spending a lot of money, time and energy to reimagine the financial experience."
Credit unions, too, have entered the game, but at a slower rate, Leiserson said. In some cases, they are scrambling to catch up with what is no longer an emerging technology and one that ideally, is part of an integrated delivery package.
"It's critical credit unions understand the necessity to have integration between online banking and bill pay channels," Leiserson said. "Mobile users are conditioned to expect the experience to be consistent, and that requires a certain level of investment, so there does tend to be an advantage among first-to-market movers."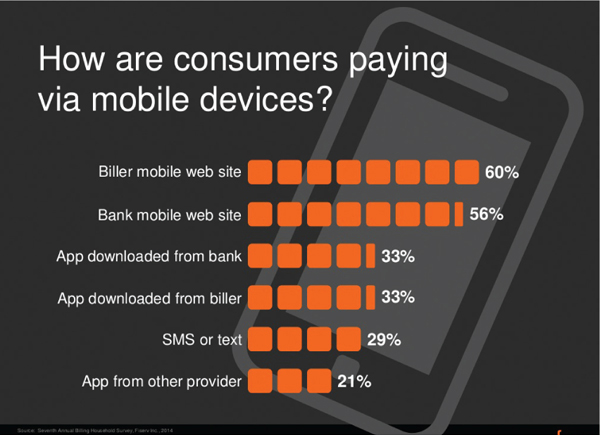 Having worked for both Digital Insight and CheckFree prior to Fiserv's 2007 acquisition, Leiserson knows some credit unions are more tech-savvy than others. He also knows that institutions seeking to serve the millennial market will have little choice but to become more mobile device-savvy as well.
"Millennials will change the way things are," Leiserson said. "There are more millennials than baby boomers and they have different ways in which they want to transact and utilize different channels than the average consumer."
The desire for multiple billing options shows up in industry research as a key factor to strengthening consumer relationships, Leiserson said. Mobile users also appreciate reminders when payments are due, as well as a system that helps them increase the organization of their billing obligations while at the same time reducing the clutter.
"Millennials, especially, are more likely to pay their bills late, so they need that speed of capability at that mobile provides," Leiserson said. "In credit unions, members dictate what tech they need, but I would suggest that they need this."
Credit unions and other financial institutions have a compelling role to play in introducing and managing mobile bill pay applications for consumers, he added. Since 60% of consumers polled admitted mobile applications would strengthen their relationship with their financial institution, there has never been a more vital time to get into the mobile bill-pay game.
"Does your credit union have mobile bill pay capabilities that are consistent, optimized and connected to your online banking program?" Leiserson asked. "If you do, how does your system benchmark against those of other financial institutions? If you don't have one, get one."