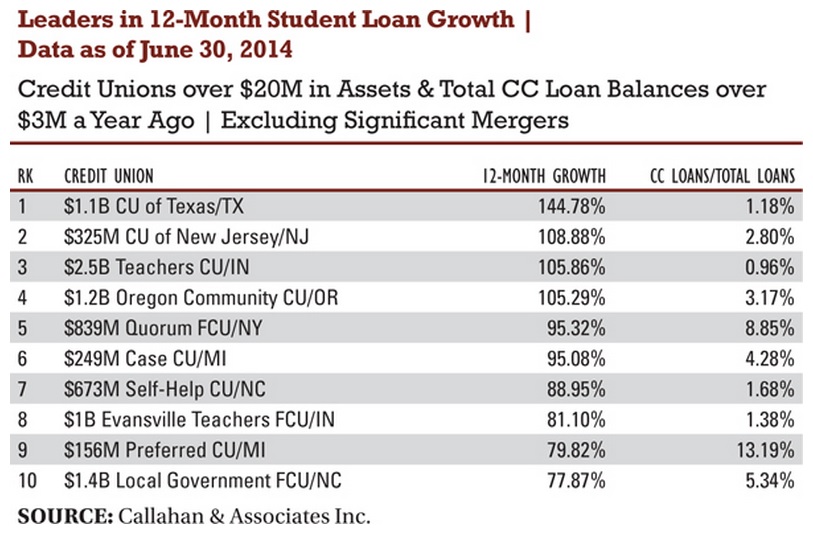 When Robert Bruemmer, EVP for the $2.7 billion Landmark Credit Union based in New Berlin, Wis., heard that his cooperative was ranked the top five nationally in terms of student loan growth, he was less surprised than he was chagrinned.
"We started offering private student loans for the first time in 2012," he said. "That's a rather large increase, but when you're starting from zero, that's easy to do."
According to data analyzed by Callahan & Associates for CU Times, private student loan growth was measured for the top 10 credit unions with more than $20 million in assets for the 12-month period ending June 30, 2014. Landmark ranked fourth with a 188.98% growth for the period.
Astronomic growth levels for some other members of the top 10 are the result of the same strategy. Credit unions that formerly offered government secured student loans or no student loan product at all, were now getting into the game. Percentage growth of the fledgling portfolios proved phenomenal.
In addition to their ability to further diversify a credit union's loan portfolio, a key driver to the current upsurge in student loan interest appeared to be the involvement in several CUSOs created especially to offer support and participation opportunities for those interested in entering or re-entering the market.
A decade earlier, student loans played a much larger role for credit unions and banks when private institutions were allowed to offer those that were guaranteed by the U.S. government. With the passage of the Health Care and Education Reconciliation Act of 2010, private institutions were barred from granting new loans under the program, and many student lending efforts ground to a halt.
Read more: CUSOs emerge from the legislative ashes …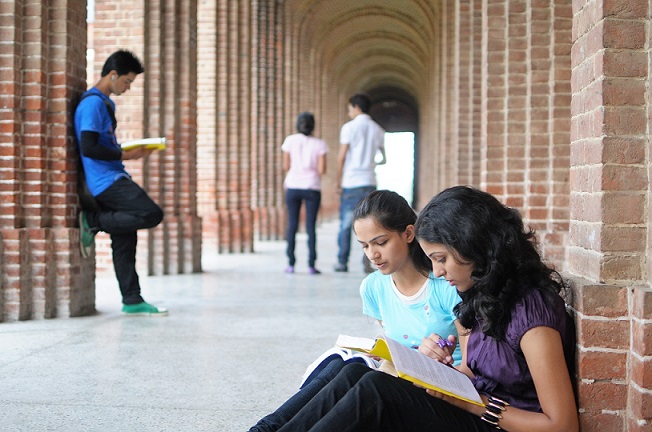 With the advent of new private student loan programs operating with their own insurance plans and offering the opportunity to participate in those loans with other credit unions, interest was once again ignited. Many of the credit unions on the Top 20 list are served by student loan CUSOs. Landmark is served by the Washington-based Credit Union Student Choice.
"We've had member requests in the past for student loans and we've head to send them elsewhere," Bruemmer said. "We didn't want to do that anymore, but we also didn't want to start our own program from scratch."
Landmark earmarked just $2 million for student loans during the program's first year. It's growing two to three times faster than anticipated, according to Bruemmer.
The credit union had previously offered government guaranteed loans through Great Lakes Higher Education Corp., based in Madison, Wis. Like many credit unions, Landmark is still managing many of those loans.
"We have about $13.3 million in outstanding student loans, and $8.1 million of that is the old government program," Bruemmer said. "Our current private student loan portfolio balance stands at about $5.2 million."
For new loans,Landmark chose Credit Union Student Choice so that they would be made to Landmark members and the credit union would have 100% ownership, Bruemmer said.
For the $1.52 billion United Educators Credit Union, based in Apple Valley, Minn.,CUSO participation was also critical for entry into the private student loan field.
At 252.22%, United Educators ranked just ahead of Landmark in total percentage growth for the year ending June 30. It also marked a step forward into a new lending arena, according to Steve Scarrella, the credit union's vice president of lending.
"Like many credit unions, we struggled when the changes were made to the government-guaranteed student loan program," he said. "Our student loan program dropped to really low levels."
That changed when United Educators signed up with Member Student Lending LLC.
"We were an education credit union without a student loan program and came across this one," Scarrella said. "We're diversifying the risk and it's worked out well for us, but less than 10% of the student loans involve our own members."
United Educators still has a little less than $1 million in the old government-guaranteed student loans on its books that it's servicing. The new private student loan program, to which the credit union committed $3 million the first year, is designed to strengthen the overall loan portfolio.