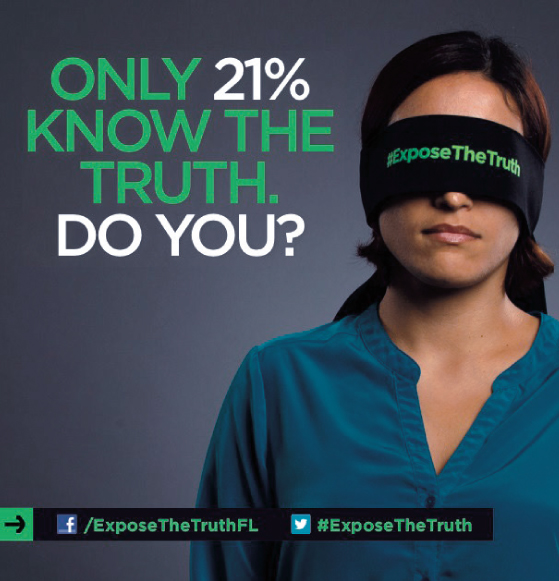 Since 2009, Space Coast Credit Union has recognized auto dealers that have provided exceptional service to members and generated the most loan volume. Top dealers are paid a higher commission for completed auto loan referrals.
Through provocative ads, such as the one shown at left, as well as through social media and the testimonies of actual members, Space Coast Credit Union launched a June marketing campaign to educate the public about rate markups at auto dealerships.
A month later on July 18, the $3 billion credit union in Melbourne, Fla., decided to scrap the entire effort after dealers and a trade group blasted the financial institution for what it described as misguided advice to consumers.
Space Coast launched its Expose the Truth campaign June 9 in several southern Florida markets. The ads featured blindfolded members with this message: "Only 21% know the truth, do you?"
"The campaign is ending this week, and we sincerely regret if any of our valued dealer partners misunderstood our message," the credit union wrote in a statement to CU Times July 18. "We did not want to harm dealers. We have great respect and admiration for these local business people who have contributed to the growth of our communities, and we particularly appreciate the valuable service to our members."
Instead, SCCU said it wanted to help members make informed decisions.
"SCCU simply cannot support the practice of rate markups," the credit union said. "We have a responsibility to protect our membership through education."
The Expose the Truth campaign was scheduled to run until Aug. 31.
The campaign was ditched after criticism from the National Automobile Dealers Association, a trade group that represents 16,000 dealerships and about 32,000 domestic and international franchises.
"The SCCU campaign is nothing more than a rehash by another competitor of previously discredited arguments," NADA wrote in a July 18 statement provided to CU Times by Charles Cyrill, public relations director at NADA.
Cyrill said the statement was made prior to SCCU's confirmation that it was ending its campaign.
Read more: Did Space Coast make the correct decision to axe the campaign?
While SCCU said its intention was to help educate consumers, one marketing expert said the credit union should have stood firm if its intentions were consistent with its core principles.
"Your credit union brand should stand for something, otherwise it stands for nothing. Look at your core values and your core brand. If your messaging that is causing controversy rings true to your brand and core values, then stick by it," said Mark Arnold, president of On the Mark Strategies, a Carrollton, Texas-based branding and strategic planning firm that serves credit unions. "If your messaging that is causing controversy goes counter to your brand, then that is a problem."
Arnold said controversial campaigns are not necessarily a bad thing because no one talks about a boring business. However, the message has to be clear.
"My guess with Space Coast is that the language used sent mixed messages," Arnold said. "Their campaign championed consumers and their knowledge, yet those same messages countered messages for their business partners – the dealers. Your brand and your campaign messages must ring true to everyone – your members, your business partners and your employees."
He continued, "If you need to adjust your messaging because it caused controversy for the wrong reasons, then returning to your brand and values is the way to execute it, just like Space Coast did."
In one of SCCU's Expose the Truth ads, two lines read, "Nation's Largest Auto Lender Fined by National Government. Recently, Ally Bank, the nation's largest auto lender, was ordered by U.S. government to pay back $80 million to victims of rate markups. They were fined an additional $18 million in penalties."
In December 2013, the CFPB and the Department of Justice ordered Ally Bank and Ally Financial Inc. to pay consumers "that were harmed by their discriminatory markup policy between April 2011 and December 2013," the agencies said.
More than 235,000 African-American, Hispanic, and Asian and Pacific Islander borrowers were affected. Ally agreed to pay a settlement administrator to contact consumers who were due compensation.
"Lenders use a part of that markup to compensate dealers for the valuable services they perform in arranging financing. Unfortunately, that creates incentives for dealers to charge higher interest rates and may be implemented in a way that results in illegal discrimination," the CFPB and DOJ said.
Space Coast said while it does not engage in rate markups, it does pay dealers a flat rate for completed auto loan referrals.
"This fee does not change the interest rate the consumer pays for their loan," the credit union said. "SCCU understands the need for dealers to be paid for their efforts in obtaining financing for their customers."
Space Cost CU said members featured in the ads were going to share their testimonies on how the credit union protected them from rate markups.
The credit union continued, "It was not our campaign's intention to implicate dealers in any way. We are sensitive to the dealer's predicament imposed by some banks' lending policies which promote rate markups. Dealers want to sell cars and earn a living. This requires a trusted indirect lending partner who offers a strong program, that is easy to understand and simple to use and access. We believe dealers should be fairly compensated for their role in facilitating the loan but we disagree with the approach taken by other lenders."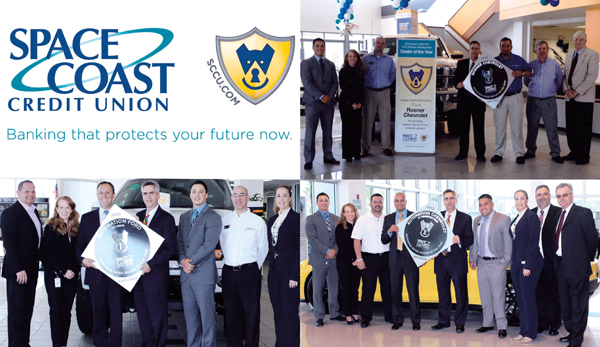 Since 2009, SCCU said it has recognized auto dealers that have provided exceptional service to members and generated the most loan volume through its SCCU Members' Watchdog program. Dealers recognized by the program are shown at left.
Member survey ratings ranked the top dealers and those that consistently earned 4.5 stars or better for that year were paid a higher commission for completed auto loan referrals and received a special Watchdog designation.
Meanwhile, NADA said, "Unlike the SCCU, the National Automobile Dealers Association encourages car buyers to compare auto financing rates at all sources – their bank, credit union or other lenders as well as their dealer."
"Despite the fact that dealer-assisted financing is always optional, a large majority of consumers still choose to finance their vehicles through dealers. It is unfortunate to see this type of misguided advice being given to consumers," NADA wrote.