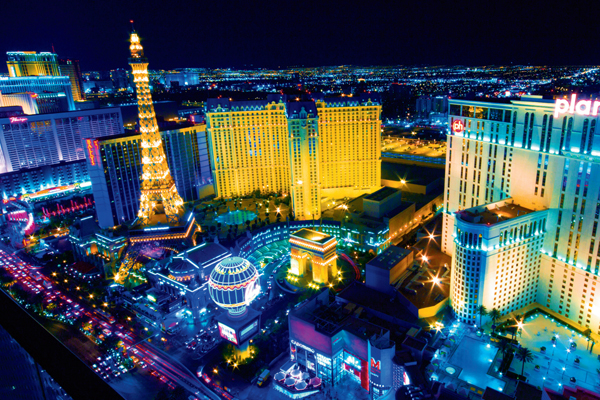 Credit union executives in Las Vegas, the site of NAFCU's annual conference this week, said while the local economy is gradually improving, credit unions in the area still face challenges.
"We're certainly on the upswing in Las Vegas but we're not where any of us want to be. Unemployment has improved significantly over the last few years. Tourism has bounced back. The amount of tourists coming in are at or close to all-time highs," Rick Schmidt, president/CEO of the $138.6 million WestStar Credit Union said.
"The housing market is rebounding. In 2010, seven out of 10 homes were upside down – had negative equity – and now seven out of 10 homes are either at or below 100% LTV. But that still leaves a huge number of homes that have negative equity and folks struggling to make payments," Schmidt added.
He said WestStar has been profitable since late 2010 and this year has been roughly the same as the last in terms of activity and earnings.
"We are not chasing after new deposits but we are growing loans, which is the most important thing. We bought a building late last year and we're moving next month to a new headquarters location, which will allow us to have the foundation to grow in the future," Schmidt said.
"We're going to be reducing our operating expenses by almost 10% by making this move, so we'll be improving the income statement dramatically starting in the fourth quarter of this year," he added.
Schmidt also said he is optimistic about the future of Las Vegas.
"When Las Vegas was at its peak, it was this huge bubble in terms of construction and people moving to town. Everything seemed to be inflated to an elevated level that was not normal, so when you try to compare now versus that peak, it's going to take a long time to get back to that peak," Schmidt said. "What I think is really encouraging is to see the amount of construction that's going on."
Schmidt noted that on the strip there was large property that was abandoned in early construction. The property was recently purchased by a firm that is expected to begin construction on a new resort and casino early next year.
The first IKEA in Nevada is going to break ground early next year as well.
Bradley Beal, president/CEO of the $719.7 million One Nevada Credit Union, said the greatest economic challenge for his credit union is the state's 7.9% unemployment rate. According to the Bureau of Labor Statistics' latest data, Rhode Island is the only state with a higher unemployment rate at 8.2%.
"The local economy continues to gradually improve. Obviously we're nowhere near what our economy was at the peak, but things have improved significantly from the depths of the recession," Beal said.
Beal pointed out that as of January, 38% of Nevada homeowners still owed more on their home than the value of the property. He called this estimate an improvement over the two-thirds figure Nevada saw a few years ago.
"We're gradually working our way out of it," Beal said.
The peak unemployment rate in Nevada was 13.9% in 2010, according to Dwight Johnston, chief economist at the California and Nevada Credit Union Leagues.
"Nevada lost roughly 200,000 jobs in the recession and has recovered more than half of those lost jobs. The sector that created the deepest hole in the job market is also the slowest to recover. Total nonfarm payrolls in Nevada are still roughly 85,000 short of pre-recession levels. Of that total, the construction sector is short 83,000," he said.
"There are signs of some recovery in the commercial construction side of things, but those projects will take some time to fully come to fruition. Most all other sectors of employment have fully recovered including the largest sector, travel and leisure," he added.
Overall, Beal said the level of economic activity is improving for his credit union in just about every category.
"Our auto loans have been pretty strong. Our Visa credit card growth has been strong and our first mortgage lending has been strong so we're seeing some healthy economic activity out there, but certainly we're not quite ready to declare the return of prosperity," he said.
"We're probably going to report net income of somewhere in the neighborhood of $6 million by the time we get to year end and we're very grateful for that. Our level of foreclosures is down to almost zero at this point which is another good sign," the One Nevada CEO said.
One of the credit unions most hard hit by the recession also continues to report recovery.
Andy Hunter, president/CEO of the $660 million Silver State Schools Credit Union, said his credit union has had positive earnings for eight quarters in a row as well as improvements in lending volume."A key aid for us has been much improved credit quality in the sense that home prices are up over the last year, depending on which source you use, 15% to 20%. That said, that's still probably 45% to 50% below peak value. It's improvement but not great," he said.
"Much of our loan losses and delinquency have both improved dramatically over the last year and that's been a big help to our performance," he added.
In February 2010, American Share Insurance, which insures the Silver State Schools' deposits, had to lend the credit union $22 million due to the impact of the recession. The credit union, once the state's largest, also closed branches and reported some layoffs.
What a difference four years makes.
In March 2014, Silver State Schools reported a net worth of 6.54%, up from 4.34% one year earlier. Return on average assets has also improved, doubling from 0.74% in March 2013 to 1.54% in March 2014. The credit union also improved its loan quality over that period, charging off 1.49% of average loans during the first quarter of 2014, which dropped its delinquency ratio to 2.60%.
Meanwhile, Bob Dorsa, president of the American Credit Union Mortgage Association, said he has seen changes since he moved to Las Vegas in 2001.
"My observation on the local economy is it is improving," he said, adding, "Several local business construction projects which were literally haunted during the recession and now seem to be slowly picking up.
"I sense the days of 5,000 people per month moving to Las Vegas are long gone. That may have had a lot to do with construction, but the foreclosure situation is improving and in some cases home prices are rising due a shortage of nicer resale homes in good areas."
Dorsa said a few local credit unions were lost during the recession but he has noticed many new branches opened by out-of-state credit unions.
"Some with a member base here, such as Navy Federal, but a few others who acquired the former local credit unions," he said.