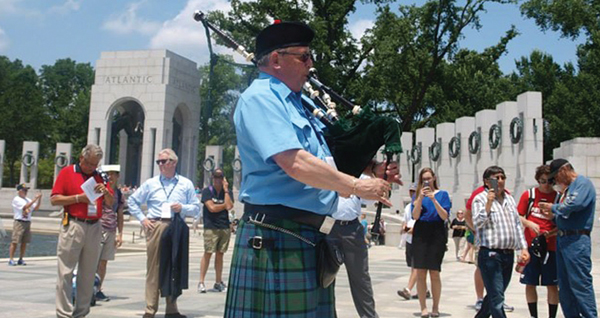 You have a large range of options if you're looking for Steve Winninger, who retired Dec. 31, 2011, after 20 years as president/CEO of $1.5 billion Lake Trust Credit Union in Michigan.
You might find him in the United Kingdom, Canada or somewhere in the U.S. leading a session on governance. Or he might be playing bagpipes at the World War II Memorial in Washington. Then there's always the possibility he's in his workshop restoring a British car or crafting a piece of furniture. Perhaps he's at a credit union filling in for a CEO, or teaching a class at Lansing Community College on becoming a better board member.
That may sound as though he's working full time. But Winninger points out that everything he's doing is part-time. Retirement, as far as he's concerned, "is a gift from God."
Winninger–who capped his career by helping guide the merger of his Lansing-based NuUnion Credit Union with Detroit Edison Credit Union to create Lake Trust in 2010–seems to be an example of what gerontologists stress about planning well ahead for your retirement.
"I planned that retirement date probably about 18 years earlier," he explained. "I knew that at age 65 I would have 19 years of service, and it just didn't seem a round enough number. So I went to 20 and retired at age 66."
From a professional standpoint, he wanted to sharpen his skills and understanding of good governance practices for boards. He went to an academy on positive governance, and started to develop plans for a consulting business, Steve Winninger and Associates.
"We had some great experience with an Irish credit union," he recalled. "This year I have also worked as an interim CEO in a couple credit unions where the board faced an abrupt departure and wanted to cover the position until they could find new leadership."
True to his plans, those jobs are part-time. They may start out a little more intense, but then they taper to perhaps three times a week, leaving him time for other activities.
Winninger also started buying tools for his workshop outside his home in Williamston, Mich, and had a 1962 Morris Mini waiting to be restored, a job he just finished. He teams up with some neighbors who have know-how he may lack, and they pitch in when he is gone on one of his interim assignments.
If all this sounds exceptionally farsighted, Winninger indicated the retired credit union CEOs he knows seem to have done a good job of preparing for the day they'll clear out their desks and arrange direct deposit for their Social Security and retirement income.
"A couple folks I know are just very happy not to work at all," he said. "They are enjoying a life of leisure. My mantra has been everything I do is part-time, whether it be work or hobbies. I manage to get in a lot of stuff without straining myself. I've enjoyed the whole process."
One of Winninger's other interests is playing the bagpipes. He just finished what he considers the pinnacle of his bagpiping experience. He was invited to participate in a chartered Honor Flight that took 77 World War II veterans and 100 of their guests from Grand Rapids to Washington, D.C., where they visited the World War II memorial and Arlington National Cemetery.
As a board member of the Mid-Michigan Honor Flight organization, Winninger helped plan the trip. He was at the Grand Rapids airport at 5:30 a.m. and arrived back in his Grand Rapids room at 11 p.m.
He played the bagpipes at both airports coming and going, at the WWII memorial and Vietnam Memorial.
"I just played all day long," Winninger said. "It was an amazing experience. There was great news coverage from the local television station. They sent a cameraman and a reporter along on the trip. It was a marvelous day for everybody."
Winninger points out that in the two and a half years since he retired he's never wondered what to do. It's a question of what to do next.
"I'm absolutely enjoying it. I've had a chance to help small credit unions. I've learned a lot, too. I have fresh appreciation of all the hats many CEOs have to wear. I have new respect for them.
"At one credit union I discovered there was a position that needed to be filled immediately. I asked who the HR officer was. They said, 'You are.'"
If you're thinking of retirement, Winninger suggests planning for some kind of continuous activity.
Some people may figure they'll take a trip out west or to Europe. But that's pretty much a one-time event. You need to think about something that is an ongoing activity. It may be serving on a board, getting involved in a charitable organization, volunteering in a local school, or immersing yourself in a hobby.
For example, Winninger loves woodworking, and his pre-retirement income allowed him to buy what he considers some very nice tools he can use for making furniture.
Certainly demands on his time vary from week to week, but overall he pretty much gets involved in each of his interests every week.
"People acquire a lot of skills they learn in their pre-retirement years they can use. In fact, I'm surprised I ever found time to work," he quipped.