WASHINGTON — Attendees at this year's Herb Wegner Awards for lifetime and individual achievement spent the evening laughing and quietly wiping their eyes as the four award winners recalled their accomplishments and thanked family, mentors and colleagues.
To help celebrate their recognition from the National Credit Union Foundation, Credit Union Times shares these photos and recollections from the Grand Hyatt Washington on Feb. 24.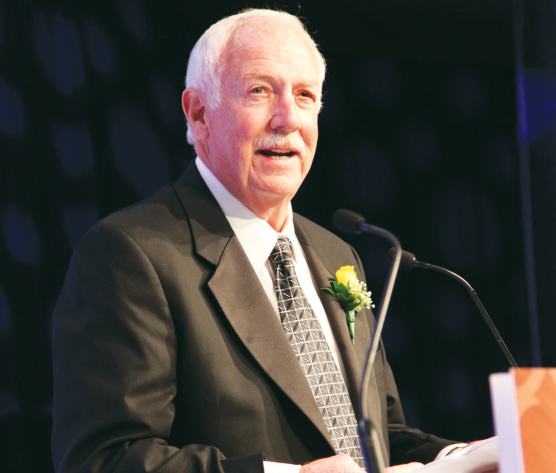 Tim Haegelin:
"I was never so good at speeches but I am going to ask you to bear with an old man tonight," said Tim Haegelin, retired CEO of the now-48,000 member Generations Credit Union in San Antonio.
"Forgive me if I get a little emotional," he added, "I, uh, never expected to find myself here."
Haegelin also thanked his board members, "If I am up on this stage tonight, it's only because of the support you have given me over the years," he said.
"Look around, look at everybody here in this room and think about the effect we're having in every corner of this blessed country," he said. "We chose to make a difference and we're here not for ourselves and not for the almighty dollar but for our members and their family and their children and the pursuit of the American Dream," he said, then added with a slightly breaking voice: "We are the hope our members need."
Read more: Gary Oakland
Gary Oakland:
"This is not about me winning an award," said Gary Oakland, retired CEO of the 844,000-member BECU in Tukwila, Wash. "This is about collaboration, friendship and shared values."
Oakland made a point of praising longtime Washington state regulator Parker Cann, who Oakland called a "progressive and enlightened regulator" and former NCUA Board Chairman Ed Callahan, working with Wendell "Bucky" Sebastian and Chip Filson.
"I wanted to get that part in just so everybody in the audience can know I can say something nice about regulators," Oakland said, to wide laughter and applause.
Oakland also became emotional when thanking his family and apologized to his children for not having been in their lives as much as he could have due to credit union work. He particularly choked up when he thanked his wife, Mary.
Read more: Jim McCormack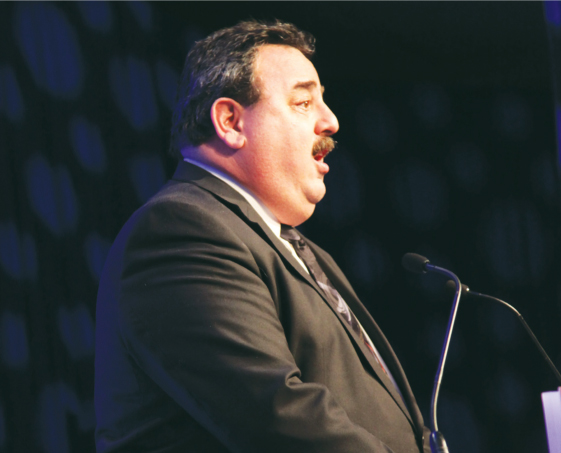 Jim McCormack:
Jim McCormack, retired president of the Pennsylvania Credit Union Association, was unable to attend the awards dinner on account of ill health. PCUA CEO Patrick Conway, Chairman Maria LaVelle and Senior Vice President Michael Wishnow, pictured at left, accepted the award for him.
Wishnow spoke for the trio and drew broad laughter from the audience by suggesting McCormack was unable to attend because he was stuck on a bridge on the way to New Jersey because of Gov. Chris Christie.
Had he been able to be there, Wishnow said, McCormack would have said that this was not an award for him, that it was an award for all Pennsylvania credit unions.
Wishnow recounted how McCormack had actually met Herb Wegner early in his career and so it was fitting that he receive this award now that he has retired from it, Wishnow said.
Read more: Sarah Canepa Bang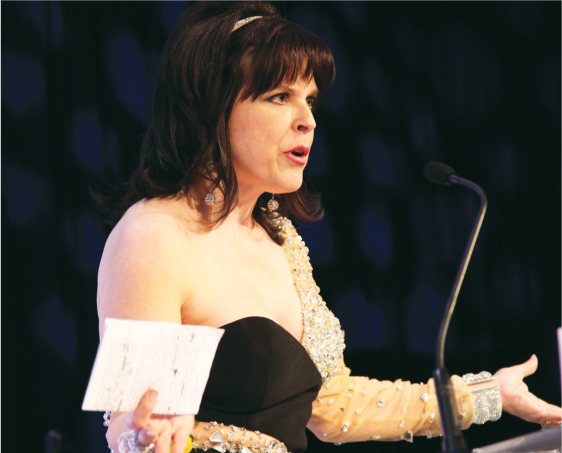 Sarah Canepa Bang:
Sarah Canepa Bang, president of CO-OP Shared Branching, started off her acceptance of the Herb Wegner Award for Individual Achievement with a flourish, announcing "the mystery is finally solved, this is what I am wearing."
Canepa Bang, who has been active for years in shared branching as well as different credit union charity and fund-raising efforts, told the audience to cheers that "next to the day I married my husband, Steve Bang, this is one of the happiest of my life," and added quickly, "You should also know that there is nothing individual about this individual achievement award. I have so many people to thank who deserve my thanks, but there is a great big hook back there with my name on it."
Canepa Bang ended her acceptance remarks by thanking the audience for "letting me contribute in my way and inspiring me and all of us to want to do it better."