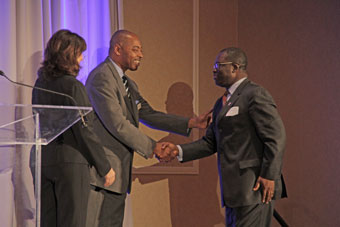 Turned down by three banks for a business loan, Alpha Energy and Electric Inc., a Kansas City, Mo., firm that ultimately caught a break with Mazuma Credit Union, is tasting sweet revenge these days.
For its outreach throughout the Midwest, Alpha Energy was recently awarded the Supplier of the Year honor in the annual sales between $1 million to $10 million category by the Mid-America Minority Supplier Development Council.
In addition, Alpha Energy received the SBA's 2012 Minority Business of the Year award for the Kansas City district.
Alpha Energy offers a broad range of energy and electrical services for commercial, retail, office, condominium and industrial construction for new and existing projects, according to the $475 million Mazuma CU in Kansas City.
The firm is also considered a local leader in green energy for some of its Midwest clients including the Sprint Center Arena in Kansas City, Mo., Whiteman Air Force Base in Knob Noster, Mo., the Robert Denney Federal Courthouse in Lincoln, Neb., and Kansas City's major league sports venues Kauffman Stadium and Arrowhead Stadium, Mazuma said.
In the span of a few short years, Alpha Energy grew from a tiny outfit operating in a two-room office into a company that contributes to the region's largest construction projects, said Ike Nwabuonwu, the firm's chairman and CEO.
"When our growth spurt made day-to-day finances a little tougher to achieve, we counted on Mazuma Credit Union, and they were there for us when typical banks ran the other way," Nwabuonwu said.
"Without a partner like Mazuma, Alpha Energy and Electric would not necessarily be receiving the accolades our small minority business enjoys, today. Frankly, our success is also Mazuma's success; we absolutely treasure our relationship," he added.
Mazuma said it is a corporate sponsor of MSDC, the group that awarded Alpha Energy the supplier of the year honor. Alpha Energy partnered with the credit union in 2009.
"After being declined by numerous area banks, Mazuma simply gave a valuable, talented community asset the opportunity booster-shot to succeed. We are extremely proud to be one of Alpha Energy's partners," said Mazuma President/CEO Brandon Michaels.
Lisa Snead, Mazuma's vice president of business partnerships, said it is incredibly gratifying to work with and witness a company like Alpha Energy grow.
"All we did was add a little financial fertilizer and water the lawn," Snead said. "Never mind the recession. It was the vision, commitment and caring of their fearless principles, chairman and CEO Ike Nwabuonwu and President Gabriel Okafor, which made Alpha Energy reach this new plateau. The recognition of our city's leaders and Alpha Energy's general success is nothing short of inspirational."