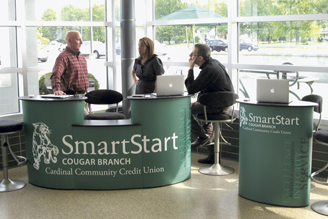 Lake Catholic High School students in Mentor, Ohio, are receiving a bottom-line lesson in finance by co-operating a credit union on-site at their school thanks to the $166 million Cardinal Community Credit Union.
The branch, which the credit union said is the first of its kind in Northeast Ohio, will offer students a chance to not only frequent a credit union on their campus, but it will teach them about financial literacy, said Cardinal CEO Christine Blake. "We want the students to be able to have a hands-on experience and introduce them to the mindset that being financially smart is more than learning to balance a checkbook."
Officially co-branded as the SmartStart Cougar Branch, the operation is located in a kiosk on the campus of about 800 and will be staffed by Lake Catholic student volunteers. The campus CU will be under the supervision of Cardinal and run by teens who applied for the job with Cardinal's human resource department.
"We were able to also give the students tips on how to better their resumes as well as teach them how to interview others," Blake said. "I really believe that this will be beneficial to both the students and the community."
Blake, a Lake Catholic alumna herself, has been a trailblazer in forging partnerships with area schools and colleges to help foster greater financial independence among young residents. She first began working at Cardinal in college as a teller and now years' later is the President and CEO.
"The student branch program is a boon to all involved," she said. "You just never know who is going to want to have a career in the credit union industry."
The teens working as tellers will learn real-world skills in a positive, safe environment and other students that become credit union members will have a chance to cash in on financial education, valuable job skills and real-world lessons on the art of being a discerning consumer. The school meets the state standards and benchmarks without additional training or resources, which Blake said are one of the keys to making the program a success. CUNA lists contact information for 250 credit unions across the country that offers similar programs for schools. "The timing could not be better because the state is putting greater emphasis on financial literacy. and we're setting the foundation for a substantive program," said Lake Catholic President Sal Miroglotta.