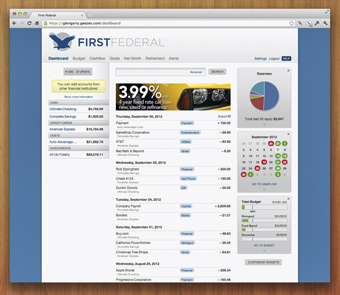 After raising the wrath of some of its members who had grown used to a personal financial management tool, Unitus Community Credit Union made the hard decision to go with another firm.
The $915 million Unitus Community CU blocked access to a popular online personal finance software service provider over possible security issues, said Laurie Kresl, vice president of planning and business development for the Portland, Ore.-based credit union.
"We started looking into why our members wanted to share their financial information [with the software service]," Kresl recalled. "So we thought since we are in the business of taking care of our members' needs, it was up to us to offer them a PFM; one that would appear on our online banking site and provide them with security."
Unitus is now looking to tap into the marketing potential of PFM to retain and gain new members.
PFM is a Web-based software application that enables members to manage and monitor their cash, bank accounts, credit and debit cards, bills, loans, investments, savings through expense tracking, account alerts and budgeting. The tool automatically updates and categorizes all expenses, allowing members to get timely updates on all of their finances on one site.
Although an estimated one in four financial institutions offer PFM, some industry analysts contend credit unions need to do a better job at marketing the tool and to find ways to engage members in their financial lives including improving features and functions in order to draw more interest. The popularity of PFM emerged in 2007 and 2008 when Mint.com, a personal financial management site, captured rave reviews from trade press reviewers and consumers alike.
After reviewing proposals from numerous vendors, Unitus partnered with Geezeo of Tolland, Conn., a PFM vendor that serves 112 credit unions. Before launching its program in November 2010, the credit union did something unexpected.
"We had a healthy debate about whether we should offer PFM for free or charge for it," Kresl explained. "Credit unions and banks went down the path for a long time to give everything away for free. In some ways, that devalues the product or service. A lot of organizations, for example, found out people were signing up for free bill pay service but they weren't using it."
Knowing that charging a fee meant some members wouldn't sign up for PFM, Unitus decided that doing so would attract engaged members who really wanted to frequent use of the tool. That turned out to be the outcome.
"These members who regularly use the PFM are highly profitable members," Kresl said. "They are some of the most engaged members in the credit union, and they advocate the credit union even more because they appreciate that we are offering the tools they want."
The monthly $2 fee covers the cost of the tool, according to Unitus. As of August, 1,300 members of the credit union's 34,191 online users had signed up for Total Finance, Unitus' PFM solution. Nearly 40% of PFM users access the tool via a smartphone or tablet.
"We don't have the largest number of members using our PFM. What we do have is that among Geezeo's clients, our members are the most active when it comes to using the PFM regularly," said Kresl.
Although the Unitus member adoption rate is only 3.8%, the credit union is hoping to attract more members to by showcasing PFM on the home page and featuring brief videos illustrating how the tool works and its benefits.
What's more, Kresl pointed out that PFM's ability to create positive member experiences is a plus in retaining profitable members who are constantly being wooed by established and emerging competitors. Some research supports this claim.
Boston-based industry research firm Aite Group surveyed 976 PFM users in January 2010. About 25% of all the respondents admitted they are less likely to switch their banking or credit union relationship as a result of using PFM. Among consumers who used PFM on their bank or credit union's site, that percentage increased to 30%.
Ron Shevlin, Aite Group senior analyst, said he believes PFM is and can be a valuable tool, but it has to do more than budgeting and expense categorization.
"What people are really interested in is getting help with managing their day-to-day expenses," said Shevlin. "What they want is where can they get better deals, how do other people spend their money, how are they doing managing their finances compared to everyone else."
There is not a lot of well integrated financial education with PFM, Shevlin explained.
"There is also very little advice on which payment methods to use, how to spend less, where to spend less, how to get better deals," Shevlin said. "Daily deals are a big topic, merchant deals based on consumer spending are big, but so little of that seems to be integrated with this concept of personal financial management."
Those issues aside, some credit unions have had varying degrees of success in marketing PFM solutions. According to Geezeo, the approximate average member adoption rates among the 112 credit unions it serves ranges from 8% to 20%.
For instance, the $568 million Newport News, Va.-based First Advantage Credit Union's PFM adoption rate is more than 14% among 30,000 online users, and the $340 million Call Federal Credit Union in Richmond, Va., has signed up 13.6% of its 6,900 online users, according to Geezeo. First Advantage and Call Federal serve 57,111 and 28,705 members, respectively.
"We have others that have done substantially better than that, and we have others that have done not quite as well," said Bryan Clagett, Geezeo chief marketing officer.
Because consumers say they want a PFM solution from their bank or credit union not an independent PFM provider, Clagett said he believes adoption rates will increase over time.
Clagett cited research from a Javelin Research and Strategy August 2011 study that showed banks and credit unions enjoyed one critical advantage over consumer PFM portals: trust. By more than a two to one margin, consumers said they considered banks and credit unions to be safer than PFM websites for safeguarding login credentials that are used to aggregate account information from multiple financial institutions.
Nonetheless, it appears that credit unions and banks have not done a good enough job in marketing PFM, in part, because only 4% of American consumers regularly use the tool, according to Pleasanton, Calif.-based Javelin.
Credit union executives should view PFMs more broadly, not as a specialty item or menu tab on a website that will appeal to only a small slice of members, said Mark Schwanhausser, senior multichannel financial services analyst for Javelin.
According to an August 2011 survey Javelin conducted with 2,300 consumers, most of them embraced the concept of a PFM site as long as it included features that would allow them to aggregate all financial accounts, make bill payments, do money transfers, set customized alerts, and automatically break down expenditures.
Schwanhausser said it might benefit credit unions to craft contextual marketing messages that show PFM's benefits including saving time and improving finances, which aligns with the credit union industry's mission of people helping people.
Still, there's another obstacle. According to Aite's research, half of consumers don't look to their primary financial institutions to manage their finances.
"However, 30% of consumers said they rarely look to their financial institution to manage their finances, but they also said maybe they should, so perhaps there is a sliver of hope," Shevlin said, adding this is where credit unions and banks need to do better at shifting the perception that members and customers want help to manage their financial lives.
Another hopeful trend is that some industry watchers expect the percentage of members who are using PFM to increase from about 8% to 10% this year to 15% in 2013. There may be some interesting discrepancies that lie beneath those numbers.
"When we ask credit union executives if their members are using PFM, they say 'no,'" said Shevlin. "When you ask customers if they are using PFM they say 'yes.'"
Incidentally, Aite's research showed about 20% to 25% of consumers said they used some type of PFM. Fifteen percent of those consumers used a PFM tool on their bank or credit union website.
Some have told Shevlin that when PFM is launched, it's not unusual that 20% to 40% of online members sign up to use it but over the next two to three months, usage drops off.
"That doesn't surprise me," he said. "It's the New Year's resolution effect." 
8 Tips on How to Market a Personal Financial Management Solution
• Highlight the benefits. It saves time, saves money, and reduces debt within contextual ads that show how a PFM can improve the financial lives for members.
• Run ads throughout the year when consumers spend money including on holidays, New Year's, summer vacation and back to school. This may show how PFM can help them manage their money in smarter ways.
• Provide PFM training for credit union employees and encourage them to use the tool so they can better articulate the benefits to members and prospects.
• Integrate your PFM with your credit union's online services.
• Promote PFM on the credit union's home page, and on other appropriate sites.
• Encourage new members to try PFM when they open an account.
• Offer PFM as an add-on product when marketing other products to members.
• During financial education and advocacy seminars, feature the PFM tool to demonstrate how it can be used to accomplish money goals.
Source:Geezeo and PTP New Media