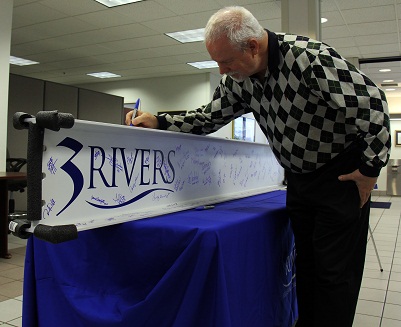 The $673 million 3Rivers Federal Credit Union in Fort Wayne, Ind., reached a milestone in the creation of its new headquarters with a recent signing ceremony for the last piece of steel that will go into its new 26,000-square-foot headquarters building.
The beam is part of the 107 tons of locally fabricated steel used in the building, which is designed to be LEED certified by the U.S. Green Building Council, including such features as energy-efficient electrical and mechanical systems, natural lighting, collaboration spaces with advanced IT and audio visual systems and landscaping that maximizes green, open space, the credit union said.
The new corporate office for the 66,000-member 3Rivers FCU is expected to be completed by November. The other phase of the $15 million project, renovation of the existing corporate office on the same site, is expected to be completed by May 2013, the credit union said.
The construction and remodeling project is one of the biggest in northeast Indiana, the credit union said, and will allow 3Rivers to grow its employment by 50% to 150 people.