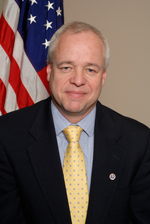 Last year, 29 NCUA employees made more than $201,000, an increase from 25 the year before, according to agency records.
NCUA Executive Director David Marquis was the highest-paid agency employee, with an annual salary of $260,708.
Melinda Love, who was Marquis' deputy for the last several months of 2011 and before that headed the agency's Office of Examination and Insurance, had the second-highest salary at $260,000. Larry Fazio, who succeeded Love at the helm of the Office of Examination and Insurance, earned $218,406.
After Marquis and Love, the next three top earners were Inspector General William DeSarno ($250,432), General Counsel Michael McKenna ($249,881) and Office of Consumer Protection Director Kent Buckham ($246,330).
All of the agency's top earners make more than the NCUA board members, whose salaries are tied to those of members of Congress. NCUA Chairman Debbie Matz earned $165,300 and NCUA Board Members Michael Fryzel and Gigi Hyland each made $155,500.
Three political appointees are among agency employees who earned more than $201,000: Todd Harper, who runs the Office of Public and Congressional Affairs and is Matz's chief policy adviser, earned $234,999. Gary Kohn, senior policy adviser to Hyland, and Sarah Vega, Fryzel's senior policy adviser, both earned $201,086.
The agency released the information after a request from Credit Union Times, filed under the Freedom of Information Act.
For this year, the agency's budget is $236.8 million, a 5.1% increase from 2011. The agency has budgeted $170.8 million on wages and benefits for this year, a $7.6 million increase over last year. This includes funds for 33 new employees, 26 of which will be for examination-related positions. The budget funds 1,259.5 full-time equivalent positions.
Last year's budget was 11% higher than the spending of 2010.
There are 555 FDIC employees who earn $200,000 or more. The FDIC has 5,381 full-time equivalent employees.
The salaries of other financial regulators and policymakers include Federal Reserve Chairman Ben Bernanke, $199,700, and Treasury Secretary Tim Geithner, $191,300.
Salaries are set in part by the government civil service rules, although the agency has some discretion over some pay levels.
At press time, the NCUA hadn't responded to questions about its salary trends and how competitive its salaries are compared with other banking regulators. Several credit union CEOs declined comment on the NCUA's salaries but had mixed assessments about how well the agency was doing its job.
President/CEO Brad Beal of One Nevada Credit Union said his credit union had mostly positive contacts with the agency.
"We've had a positive relationship with the agency. We've never had a problem with the agency, especially the regional examiners,'' he said. His Las Vegas-based credit union, which recently converted from a federal to state charter but remains federally insured, has assets of $661 million.
Kentucky Employees CU President/CEO John Graham said the agency's performance is mixed.
"They've done good things, such as being receptive to the suggestion that it considers broadening the definition of small credit unions,'' said Graham, whose Frankfort, Ky.-based credit union has assets of $59 million.
But Graham, who represents small credit unions in his region on CUNA's board, was critical of other aspects of the agency's performance.
"I hear lots of concern about the constant annual budget increases, which are paid for by credit unions. Also, there is the always increasing regulatory burden. We spend $50,000 on the salary and training of our compliance officer, and that's money we can't spend on other things that could help our members,'' he said.
NAFCU President/CEO Fred Becker said even though the agency's spending increase this year was smaller than last year, the NCUA should do more to restrain spending.
Becker said "any increase is too high, especially at a time when the NCUA should be demonstrating greater fiscal restraint, and rolling back its budget."
The NCUA's 950 unionized NCUA employees did not get a pay raise this year, but did receive a more generous retirement package.
Last year, approximately 200 NCUA employees not covered by the union contract had their pay frozen, like most federal employees.
However, those covered by the union contract received a 6.1% increase because that had been negotiated before President Obama ordered a pay freeze in November 2010.