Those tapped into the needs of Generation Y are encouraged that this segment of the population would be attracted to credit unions if they knew the cooperatives could help face challenges with their retirement goals.
They're frugal, wary of taking on too much debt, interested in saving, and open to financial advice, some experts have said, making them potentially ideal member candidates.
Barbara Ray, co-author with Richard Settersten of the book Not Quite Adults, said the anemic economy has played a major role in shaping Gen Y attitudes, including their outlook toward retirement.
"They're worried and wonder whether Social Security will be available for them," Ray said. "They look down the line and figure they better start saving. Whether they're actually saving, I don't know."
Ray said the current economy has certainly heightened their awareness.
"There is a general sense that they need to save money. They're suddenly very aware of the value of the dollar. Part of that is because they see their parents struggling. Part of that is the fact they didn't get a job straight out of college, so money is front and center."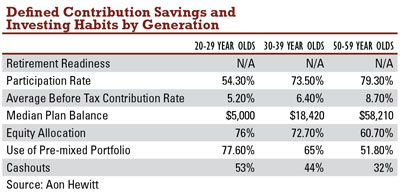 Because of the pressure, Gen Yers are becoming very frugal, Ray added. Saving is almost a necessity for them, but they can't quite save money because they don't have a job yet or if they do have a job they're underemployed, she explained.
While they're aware that they need to save for retirement, some of them may not be making much headway. A study commissioned by Scottrade found that 60% of Gen Y saved nothing toward retirement in 2010, and 40% were expected not to save anything in 2011.
Another study from human resources firm Aon Hewitt, found that 50% of Gen Y employees who were eligible for a defined contribution retirement plan participated. Their average savings rate was 5.3% of pay and more than 40% didn't contribute enough to qualify for an employer match. The study also showed that six in 10 who did participate cashed out their savings rather than rolled over the money to a new plan when they changed jobs.
Gen Y has seen their parents work beyond the usual retirement date because they simply don't have enough money to quit, other research data has revealed. Whether working longer will be an option for Gen Y depends on the kind of job they get and whether it offers savings vehicles such as 401(k) plans.
Even though the current economic picture may be discouraging, Ray said Gen Yers are actually pretty optimistic, with a "this too will pass" attitude. But in many ways, some of them are financially naïve. That's not necessarily their fault, Ray noted. They didn't get information about money and finances in school or college tacked on to the perception that the financial world has become more complicated.
"I sense they're a little risk adverse," Ray said. "They don't have a lot of credit card debt. They feel the burden of their college debt. They certainly aren't moving around the country as much. They feel tethered to their home town in many cases. They're a little gun shy, and I think they're hunkering down."
Would they be receptive to a credit union that offered them help with budgeting and financial planning?
"I would guess that a lot of Gen Y doesn't know the difference between a credit union and a bank. I think for this generation you have to build a sense of community. They use social networks so extensively. Those networks give them a sense of being part of something," Ray said.
She believes the credit union message that 'you're a member, not a customer,' would definitely attract Gen Y.
So does Melanie Shreffler, editor in chief at Ypulse, a marketing research firm focusing on young people. In fact, she believes credit unions are perfectly poised to win Gen Yers.
"Gen Y is collaborative," Shreffler said. "They believe in sharing their expertise and knowledge. They recognize that here is an organization that can help them achieve their goals. They're very excited about that kind of relationship if they see a benefit for themselves and will react positively."
Shreffler said Gen Yers are also aware of the Occupy Wall Street movement that's been happening, and are "very leery of big business and big banks."
"Credit unions have an opportunity to show how they educate consumers rather than take advantage of them," she explained. "The member-not-just-a-customer idea would definitely resonate with them. They support co-ops, and they like the idea of an organization that knows what they think and how they feel."
In courting Gen Yers, Shreffler suggests credit unions keep it flexible, fun and interesting.
"Let them know they can have faith in the brand. Be in all places – social media, email, television commercials and so on."
As for saving for retirement, Shreffler said Gen Y is aware of the need to save but they are still concerned about finding and keeping a job. Retirement isn't on their radar screen yet, she pointed out, adding they've seen what happened to their parents and they're primarily concerned about job security.
"However, at this young age, this is when you can really start stock piling money, invest it wisely in a 401(k) and let it grow to a sizeable savings for retirement," Shreffler said.
She agreed with Ray in terms of Gen Y electing to work beyond normal retirement age. They don't mind the idea of work, and they enjoy working with their friends but they also welcome options such as flexible hours or working at least some hours at home that allow them to juggle other responsibilities.
Shreffler also agrees that Gen Y is very realistic but not pessimistic. They believe in themselves, even though the current economy has dealt some harsh blows, she said. They're proactive, and willing to adjust by taking on freelance work or assessing their skills with an eye to starting their own businesses, she added.
Even when the economy improves, Shreffler said she believes Gen Y will retain the same "thoughtful approach" to their finances that their grandparents took on during and after the Great Depression.