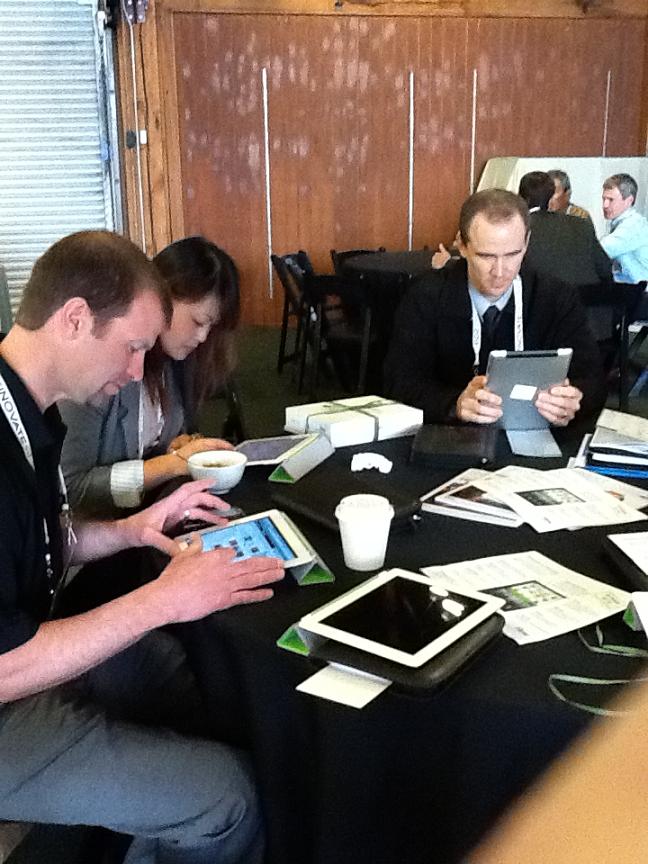 Arm 11 people with iPads and set them loose at a conference featuring 64 fast-paced presentations of some of the latest ideas in financial services innovation.
That was Denise Gabel's plan at the Finovate Spring 2011 conference May 10-11 at the San Francisco Design Center Concourse and she found the results both satisfying and disruptive.
Gabel is chief innovation officer at the Filene Institute in Madison, Wis., and to her "disruptive" can be a very good word when it comes to new technologies making their way into what she said is the sometimes myopic world of credit unions.
For instance, "disruptive" was the word she used to describe ChargeSmart, a startup that allows consumers to use gift cards for something other than the retailer that sold them. The presenter at Finovate demonstrated selling his at a discount – about $89 for a $100 card – and applying it instead to a utility bill.
"The ability to trade retail gift cards like cash and use them to make payments immediately disrupts the retailers, and the power suddenly shifts from them as the concept grows," Gabel said. "No more float that these cards provide, and the up sales from the consumer using that gift card in the retail environment are gone."
So where would credit unions fit into that scenario? Gabel said that would remain to be seen. In fact, opinions about how credit unions could use ChargeSmart and the more than 60 other solutions the show featured were what the iPads were all about.
A group of 10 people from the U.S. and Canadian credit union industry joined Gabel at Finovate. There they used an app developed at Filene to provide immediate feedback to each other on what they saw, and for Gabel to use to compile reports after everyone went home.
"The iPad was a great success," Gabel said. "Our participants said it helped stay in the moment and track the 64 ideas more closely."
As for the show itself, Gabel said, "I think it's very valuable to credit unions. For those in the box there were several products that fit with credit unions. For those a bit further out of the box, there was an opportunity to think about how this technology could be applied in a different way that would fit with them.
"Either way, I think the show demonstrates that innovation in financial services is alive and well. The question is to what degree will credit unions go out and find way to co-develop with these providers as one way to stay out ahead."
The Filene Institute was a sponsor of the Finovate show and Gabel said she'd be sharing the group's thoughts with the show organizers and on the institute's website. Their opinions varied, of course, but a central theme was how the ideas could become reality back at the credit union, and if they should.
"There were some innovative products and services presented," said Ron Amstutz, executive vice president at the $2.8 billion Desert Schools FCU in Phoenix. "It'll be interesting to see how many of these startup ideas actually make it."
Whether they do or not, and whether or not credit unions join in, the process itself is of value, other participants said.
"It's very energizing to see the level of creativity going on in the industry with smart people trying to figure out how to use new technical capabilities to improve service and help companies be more profitable," said Kevin Lentz, senior vice president of services product management at CUNA Mutual Group in Madison, Wis.
On the other hand, he said, "It's very challenging to identify the inflection points where early mover adoption may yield significant advantage versus moving too early in a space facing significant future shakeout of consolidation."
Lentz also noted there are still "lots of issues to be resolved in privacy and use and storage of personal information these new technologies enable."
Gabel said the app used for the iPad project is Web-based and would work on PCs just as easily. She said it's available to credit unions and she encouraged its use.
"What if you could identify four other credit unions around the U.S. and Canada who are interested in vendor X," she asked, "and what would happen if they worked together with that vendor in developing a product for those credit unions?
"Just think about the possibilities in connecting and developing, in collaboration around innovation."
Gabel said she is planning to repeat the feedback project at Finovate's September show in New York City. For information on participating at Finovate or using the collaboration app, she can be contacted at deniseg@filene.org.