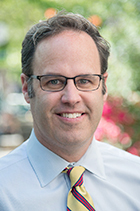 California's Santa Cruz County Board of Supervisors voted to stop doing business for five years with five banks that recently pleaded guilty to felony conspiracy charges, and Third District Supervisor Ryan Coonerty (pictured at left) encouraged other local governments to do the same.
In a June 2 letter to the board, Coonerty recommended that it change the county's investment policy to ban Citigroup, JPMorgan Chase, Barclays, Royal Bank of Scotland and UBS from doing new business with the county for five years. Coonerty said the board voted unanimously to approve his proposal.
"I was thinking if we were going to build a community center or [award] a contract for the company to build a community center, or to pave the road or to chlorinate the pool, we would never accept a contract from a company that had just pled guilty to federal criminal charges," he told CU Times. "We would never do business with them, those people, regardless of how good their bid was. I just thought, why do we have a different standard for who we put our money with?"
On May 20, four of the banks pled guilty to conspiring to manipulate the foreign currency exchange market; UBS pled guilty to manipulating LIBOR and other benchmark interest rates. The banks agreed to pay billions in fines.
"The actions of these banks pose risks to investors and the public, and I question whether these banks can be trusted with county funds," Coonerty said in his letter to the board. "Santa Cruz County should not be involved with those who rigged the world's biggest financial markets. It is important that we send a message that if you want to do business with the county, you need to play by the rules."
Coonerty said the county has around $650 million in funds, and its banking relationships have two primary components: Day-to-day banking and investment of reserve funds. The county uses Bank of the West for its day-to-day banking, and when that contract comes up, the five banks will not be eligible to compete for the business, he said.
He said much of the county's reserve funds are in certificates of deposit and commercial paper.
"We have personally bought commercial paper from JPMorgan and from Citigroup, and so we will not buy commercial paper from them for five years," he told CU Times. "The current commercial paper we own, they're going to sell off as feasible. We'll just be buying commercial paper and CDs from other institutions."
Coonerty, who said he sat on the Santa Cruz Community Credit Union board for eight years, wants more of the county's money invested locally. He encouraged credit unions to meet with their local county or city treasurers regarding where they're placing their reserve funds. He also said credit unions that want to compete for a local government's business should figure out when their banking contracts expire.
"You want to make sure that you have the pieces, the technology and everything else to handle these sorts of accounts," he noted. "You should also work on making sure your local government has a local purchasing preference. If you bid, you should get a couple extra points because your money will stay local. It's going to be working in the community and all the positive impacts that we know about keeping money local."
Coonerty said he's reached out to around 50 local governments on the matter, and the idea seems to be getting traction.
"I've been called by probably a dozen elected officials from different cities and counties across the country, and then also hundreds of individuals," he said.
Coonerty said none of the five banks have contacted him, however.