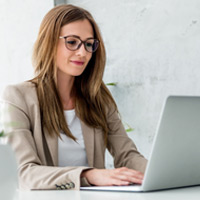 FedNow's promise has been met with a good deal of anticipation, but also hesitation. The Federal Reserve's new service processes transactions in real-time, allowing members to receive account deposits in seconds rather than days. And while the start of October brought 13 more credit unions to the group of early adopters, many are staying on the sidelines as questions about security are still to be settled.
"Credit unions are asking, 'How do we maintain security and the integrity of data throughout the entire transaction life cycle?'" says Brian Keefe, senior presales consultant at NICE Actimize. "Because with transactions being nearly instantaneous, once a payment is out the door, it's difficult to recoup funds."
As credit unions decide whether they'll adopt FedNow, it's helpful to understand security considerations to determine the best way forward.
Reducing the risk of transactional errors
One concern that credit unions have is transactional accuracy and the risk of errors. Keefe notes that FedNow created operational guidelines to help credit unions navigate adoption, but explains the importance of having systems in place to authenticate and catch errors in real-time.
"The information securing the new FedNow system is very robust," says Keefe. "They receive a lot of notifications back and forth from the credit unions ensuring that these transactional errors are minimal and an authorized transaction. The FedNow system was developed to reduce those particular errors that we see in legacy systems."
Information is authenticated using a series of "handshakes," Keefe notes, which create checks and balances on various aspects of the transaction between credit unions and FedNow.
"These handshakes occur to ensure the recipient account and originating account balances are correct, that data is verified in real-time, and the instant transaction speed is supported," says Keefe.
However, making sure those handshakes continuously happen involves understanding any potential gaps in your systems and fixing them.
Identifying gaps in your system to transact safely
As credit unions consider FedNow adoption, a good starting point is asking whether your current systems support real-time transactions. Many legacy systems require manual intervention, and that process isn't sustainable when transactions happen around the clock – and payments are nearly instantaneous. Once you identify process and systems gaps, you can address them.
"You'll want to bring in a solution, or a variety of solutions, that can evaluate transactions 24×7/365 days a year," says Keefe. "The solutions need to examine transactions from end to end – not just from one side. Two key components of any solution need to be real-time fraud detection, and more importantly real-time interdiction. If you're not stopping fraud in real-time, it's too late."
Keefe also underscores the importance of educating members about how FedNow works and the potential threats involved with real-time transactions, such as fraud.
Partnering with members and implementing the technology required to support instant transactions can help credit unions capture the advantage needed to serve younger clients, many of whom demand increasing convenience and real-time transactions.