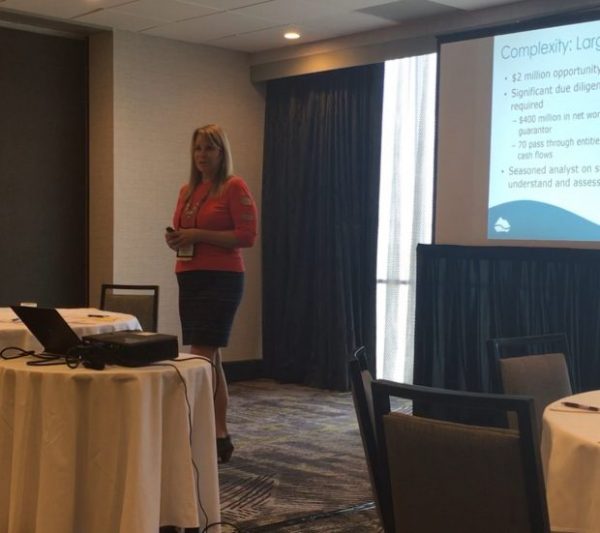 SAVANNAH, Ga. – When it comes to commercial lending success and a credit union's size, bigger doesn't always mean better. Just ask St. Helens Community Credit Union President/CEO Brooke Van Vleet, who described the ups and downs of the credit union's 30-year commercial lending journey in a breakout session at the 2018 CUBG National Business Conference last week.
The $220 million SHCU, located in the quiet Columbia River-adjacent community of St. Helens, Ore., is grandfathered into the MBL cap due to its long history of commercial lending in the area, and maintains a lending portfolio of approximately one-third commercial, one-third consumer and one-third real estate. From 2013 to 2016, Van Vleet explained, SHCU resolved a few problematic loans, and started placing more emphasis on risk and the credit union's needs when structuring new loans. The credit union faced some challenges along the way, including a notable loss during the resolution of one particular loan, but it began returning to profitability after 2016, bouncing back from an ROA of 0.52% and net worth of 7.52% in 2016 to an ROA of 1.04%and net worth of 8.79% in 2018 year-to-date.
"While we took the time a few years ago to address some troubled credits that began showing stress a few years after the Recession, the portfolio today is strong and growing, and we believe our commercial lending capability is an important component of successfully serving our community as well as ensuring our future sustainability," Van Vleet said.
One borrower relationship that Van Vleet said SHCU is especially proud of is with a local logistics support company and has lasted over 20 years; during this time period, the company has seen exponential revenue growth. SHCU meets a unique need by providing equipment financing for the company, which also maintains a sizeable deposit balance with the credit union that fluctuates somewhat seasonally, she noted.
"Many credit unions focus their commercial lending program solely on commercial real estate, and SHCU wants to be able to serve other small business lending needs, such as equipment financing," she said.
Over the years, SHCU has developed a SEG-like relationship with the logistics support company and provided financial education to its employees – an opportunity Van Vleet noted many credit unions miss in their business borrower relationships. Half of the company's 30 employees are SHCU members, and the owners allowed the credit union to present its "Going Green Makes Cents" financial wellness program to its entire employee base. "This opportunity has resulted in additional consumer accounts, including mortgage loans, and we're now in the process of setting up ongoing quarterly seminars for their team," Van Veet revealed.
Going forward, SHCU plans to focus on identifying strong commercial lending partners, ensuring staff training is ongoing, and building even more community relationships. A rebranding and renaming project is also in the works for SHCU.
"We believe our community involvement is another key success factor in our market that helps create top-of-mind awareness for small business owners," Van Vleet said, adding that when it comes to commercial lending, SHCU is "in it for the long haul."