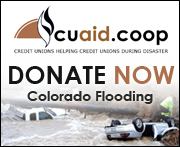 The National Credit Union Foundation said it needs at least another $100,000 to meet the requests for financial help from credit union people affected by the devastating flooding last month in Colorado.
Since the online CUAid effort was launched two weeks ago, the foundation said, it has raised about 40% of the $200,000 in requests that have been sought, the foundation said Monday afternoon.
"There are numerous folks who are still waiting for the infrastructure necessary to their lives to be rebuilt adequately, allowing them to return to their properties," Dan Santangelo, executive director of the Mountain West Credit Union Foundation, said in the NCUF statement.
Nearly 18,000 homes were damaged by the flooding, including nearly 2,000 that were destroyed, and nearly 1,000 businesses also were affected, the statement said.
"Many people who need help are credit union members. Since our philosophy in credit unions has always been summed up by the phrase 'people helping people,' I'm respectfully, but urgently, asking you to help credit union members in Colorado as they try to move forward from this disaster," Santangelo said.
The NCUF plea included the story of a 35-year Elevations Credit Union member who lost her home for the second time recent years, the first when her income as a Realtor was slashed by the recession. This time a 4-foot wall of water destroyed her home in Boulder and she was denied FEMA aid. See photos here.
"We are hearing hundreds of stories similar to (hers) and would like to help them with a CUAid grant," Santangelo said. "Please consider helping Colorado credit union members by making a donation to CUAid."