More than one in four mobile and tablet users report being victims of online or mobile fraud, a national survey says, but that isn't stopping them from using those channels.
According to the results of the 2013 Consumer Mobile Insights study released recently by Jumio Inc. of Palo Alto, Calif., fully 83% of respondents worry about identity theft but still use those mobile and online options for their convenience.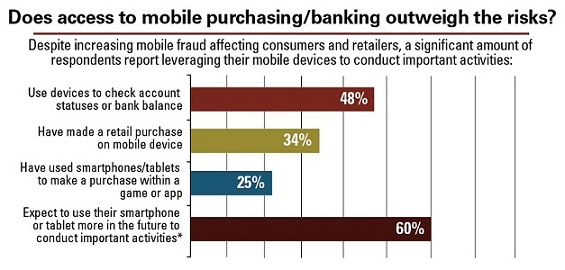 Jumio, a credentials management firm, commissioned Harris Interactive to conduct the online study from March 22-26 among 2,130 U.S. adults. There was no probability sample and thus no estimate of sampling error, Jumio said.
Nearly two-thirds of consumers have a smartphone or tablet, including 81% of female respondents ages 18 to 34, Jumio said, and 70% of men in that age bracket.
Jumio said that while one in four respondents (26%) reported being a victim of online or mobile fraud, 48% continue to conduct financial or other important activities on mobile, such as checking account statuses/balances (48%) or paying bills (32%).
And 60% of respondents expect to use their smartphone or tablet even more in the future to conduct important activities, Jumio said.
"This adoption continues to grow in the face of increasing mobile fraud, and related concerns have clearly not kept smartphone users from participating," said Daniel Mattes, founder and CEO of Jumio.
"Users may be willing to accept risk now in favor of convenience, but this tolerance will weaken as fraud continues to grow. The industry needs to get on board to protect our customers as much as the customers themselves need to take greater precautions," Mattes said.