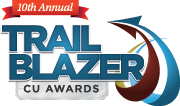 Credit Union Times 2015 Trailblazer Awards
Credit Union Times is very excited to recognize the best the credit union community has to offer with our 10th annual Trailblazer awards. Apply today for recognition by the nation's leading source for credit union news and analysis. The deadline for applications is September 26, 2014. Don't wait until the last minute!
Hundreds of credit union professionals turn out each year for the CU Times Trailblazer Awards reception to help honor the top credit union professionals and volunteers. Credit Union Times will host the 2015 reception on Tuesday, March 10, at the Renaissance in Washington, D.C, during CUNA's Governmental Affairs Conference. Read more about past Trailblazer Award winners and take in the scenes from the 2014 Trailblazer Awards reception.
Not all trailblazers strike out for the frontiers. Sometimes blazing trails means leading people back through terrain they thought they knew in order to rediscover treasures they forgot they lost.

Like many executives, Chad Graves begins his day by reading The Wall Street Journal, USA Today and his local newspaper. Only Graves is not a CEO or CFO, he's the chief technologist at Ent Federal Credit Union.

Don't expect Joe Brancucci to back down from his convictions, especially when it comes to how credit unions have the choice of evolving or face extinction.

Many, if not most, credit unions would balk at the notion of adopting former state prison inmates as potential members. But it should tell you a lot about the 21,000-member $90 million Shreveport Federal Credit Union that the idea met with near universal approval from the first time it was...

Never tell Kristen Mashburn, director of marketing at Listerhill Credit Union, that marketing is little more than the latest ad campaign.

The $3.9 billion Patelco Credit Union experienced its most profitable year in the Pleasanton, Calif.-based institution's 76-year history, with a $55.5 million net profit and 1.48% return on assets. In fact, last year's earnings were more than the total of $37 million earned from 2005 to 2011 combined.

Here are some of the highlights, including the acceptance remarks from the winners, at the 2012 Trailblazers Awards reception at the CUNA GAC.

Once again, Credit Union Times is very proud to announce the winners of the annual Trailblazer awards.

Credit Union Times is very proud to announce the winners of our 2011 Trailblazer Awards. The winners were honored March 1 at a reception held during CUNA's Governmental Affairs Conference in Washington D.C.

ASI Federal Credit Union became a low-income credit union before the low-income credit union designation, or even the NCUA, existed.