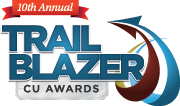 Credit Union Times 2015 Trailblazer Awards
Credit Union Times is very excited to recognize the best the credit union community has to offer with our 10th annual Trailblazer awards.
Hundreds of credit union professionals turn out each year for the CU Times Trailblazer Awards reception to help honor the top credit union professionals and volunteers. Credit Union Times will host the 2015 reception on Tuesday, March 10, at the Renaissance in Washington, DC, during CUNA's Governmental Affairs Conference. Read more about past Trailblazer Award winners and take in the scenes from the 2014 Trailblazer Awards reception.