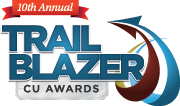 Credit Union Times 2015 Trailblazer Awards
Credit Union Times is very honored to recognize the best the credit union community has to offer with our 10th annual Trailblazer Awards.
Hundreds of credit union professionals turn out each year for the CU Times Trailblazer Awards reception to help honor the top credit union professionals and volunteers. Credit Union Times will host the 2015 reception on Tuesday, March 10, at the Renaissance in Washington, DC, during CUNA's Governmental Affairs Conference.
Learn more about past Trailblazer Award winners and take in the scenes from the 2014 Trailblazer Awards reception.
Registration is required to attend. Click here to Register Now
This year, CU Times honored five executives, one volunteer and two credit unions for their outstanding service and leadership.

See who stopped by the CU Times Trailblazer Awards reception.

Charlotte Metro Credit Union develops innovative solutions to remain on the leading edge of technology.

Jonathan Patrick helps members realize their small business dreams.

Bethpage FCU takes proactive steps to introduce supplemental capital legislation that now has momentum.

Tuscaloosa Credit Union customizes solutions for the financially neglected.

Marketer of the Year's deep dive into analytics delivers new perspective on boosting member profitability.

Thomas Renz, president of $35 million Commodore Perry FCU shares ideas to help credit unions compete.

The art of making someone care about your story — your credit union's story — is lacking.

Annette Zimmerman starts with culture to turn PrimeWay Federal Credit Union around.