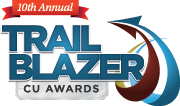 Credit Union Times 2015 Trailblazer Awards
Credit Union Times is very honored to recognize the best the credit union community has to offer with our 10th annual Trailblazer Awards.
Hundreds of credit union professionals turn out each year for the CU Times Trailblazer Awards reception to help honor the top credit union professionals and volunteers. Credit Union Times will host the 2015 reception on Tuesday, March 10, at the Renaissance in Washington, DC, during CUNA's Governmental Affairs Conference.
Learn more about past Trailblazer Award winners and take in the scenes from the 2014 Trailblazer Awards reception.
Registration is required to attend. Click here to Register Now
The $3.9 billion Patelco Credit Union experienced its most profitable year in the Pleasanton, Calif.-based institution's 76-year history, with a $55.5 million net profit and 1.48% return on assets. In fact, last year's earnings were more than the total of $37 million earned from 2005 to 2011 combined.

Here are some of the highlights, including the acceptance remarks from the winners, at the 2012 Trailblazers Awards reception at the CUNA GAC.

Once again, Credit Union Times is very proud to announce the winners of the annual Trailblazer awards.

Credit Union Times is very proud to announce the winners of our 2011 Trailblazer Awards. The winners were honored March 1 at a reception held during CUNA's Governmental Affairs Conference in Washington D.C.

ASI Federal Credit Union became a low-income credit union before the low-income credit union designation, or even the NCUA, existed.

Since the earliest days of American history, concerns about tax policy have prompted individuals and groups to express their opinions, sometimes in dramatic ways. The Pennsylvania State Employees Credit Union has never dumped tea into a harbor, but its political awakening began when Congress considered imposing taxes on credit unions.

Successfully suing the Internal Revenue Service over the unrelated business income tax and serving as a test case for the credit union movement might be enough political activity to last any financial institution for several years.

An economic downturn, lower pay increases, and the perception of fewer opportunities. All that didn't dampen Elevations Credit Union Vice President of People Annette Matthies'

When Jersey Shore Federal Credit Union Board Chairman John DiNofrio was in the service, his father passed away and he was stuck in Spokane, Wash.,

Asking Joanie Johnson to select her favorite cause is like asking a mother to pick her favorite child-can't be done.