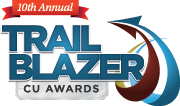 Credit Union Times 2015 Trailblazer Awards
Credit Union Times is very honored to recognize the best the credit union community has to offer with our 10th annual Trailblazer Awards.
Hundreds of credit union professionals turn out each year for the CU Times Trailblazer Awards reception to help honor the top credit union professionals and volunteers. Credit Union Times will host the 2015 reception on Tuesday, March 10, at the Renaissance in Washington, DC, during CUNA's Governmental Affairs Conference.
Learn more about past Trailblazer Award winners and take in the scenes from the 2014 Trailblazer Awards reception.
Registration is required to attend. Click here to Register Now
Trailblazer Volunteer of the Year Roger Mark Hall, chairman of the $12 million Greater Abbeville FCU, has always been driven by service to others.

The Trailblazer Service to the Underserved winner, the $61 million Lower Valley Credit Union, uses auto loans to provide opportunities for the underserved.

Trailblazer Outstanding Political Action winner, the $822 million Credit Union ONE, fought skimmers by spearheading new state legislation.

Trailblazer CEO of the Year Joe Thomas, Jr. saved a man from his burning HQ, executed and fine tuned his disaster recovery plan and achieved 50% loan growth last year.

Trailblazer CFO of the Year Jeff Merry has taken VolCorp beyond Solvent Five status to a merger surviving and financially thriving cooperative.

Trailblazer Marketing Executive of the Year Willard Ross, from the $2.2 billion Coastal FCU, used video tellers to boost his CU's profile while streamlining operations.

Trailblazer Lending Executive of the Year Corey Miller grew consumer loans by almost 20% last year at the $831 million Northwest Community Credit Union.

Trailblazer CEO of the Year Joe Thomas, Jr. saved a man from his burning HQ, fine tuned his recovery plan and achieved 50% loan growth.

Credit unions, volunteers, corporates, CUSOs and vendors have until Friday to nominate themselves, a co-worker or a colleague for this Credit Union Times annual award.

Past Trailblazer Award winners share their greatest concerns in 2014. Deadline to submit nominations for this year's contest is today.